10 White Sneakers Style For Men Which Wear On Denim.
Sneakers now become fashionable trends among women and men. In the wardrobe, 10 out of 8 have jeans. As you can see in the past few years only a few styles are available in the footwear market Formal and Sportswear only. Today you can see the coolest white sneakers
As the days passed in the footwear categories, many styles of fashion were added like loafers, casual sports, and now sneakers. Currently, Only Two colours of sneakers are famous and trendy in the fashion market white sneakers and red sneakers.
And White sneakers are in high demand by men and women. As you can see only white sneakers has many design and variations of pattern available but people choose limited ones.
Also, having lot of confusion about which white sneakers will wear with which outfit.
WHITE SHOE SNEAKERS WEAR WITH A DENIM SHIRT AND RIPPED BLACK JEANS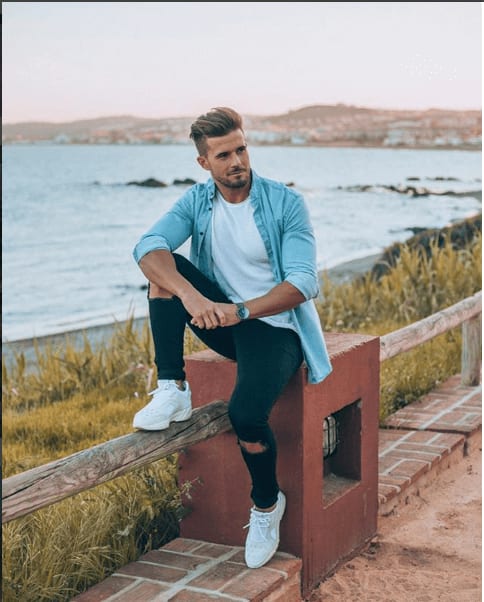 You can wear white sneaker shoes over ripped black denim jeans with a t-shirt and denim shirt or jacket for looks stylish. This outfit is very popular nowadays among youngsters. Choose flat white sneakers shoes with lace-up or without lace sneakers.
Ripped denim jeans are also in trend nowadays too.
Wear a denim shirt with black jeans is also a good option with white sneakers you can also try out these outfits. It is a complete contrast colour game, If you have worn black then you can wear the opposite colour.
PLAIN WHITE SNEAKERS WITH A TRAVEL OUTFIT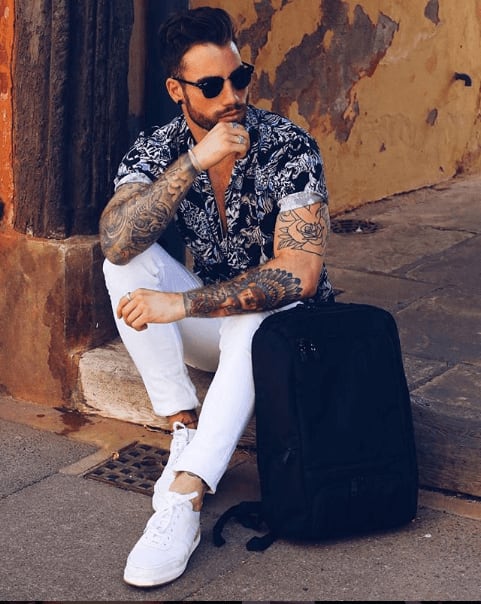 When people travel many people want to relax with style as well. you can wear white sneaker shoes over white denim jeans too with any designer print like a flowers print shirt or t-shirts, You can also try out a black t-shirt with white denim jeans.
On travel select, the heel-free flat white sneakers with little design check the samples of sneakers below for reference. This kind of sneakers will give you more relaxation in traveling time even on Air Travel, Road Trip Etc.
TOP HEEL WHITE SNEAKER WEAR ON FULL SLEEVES T-SHIRT & RIPPED JEANS STYLE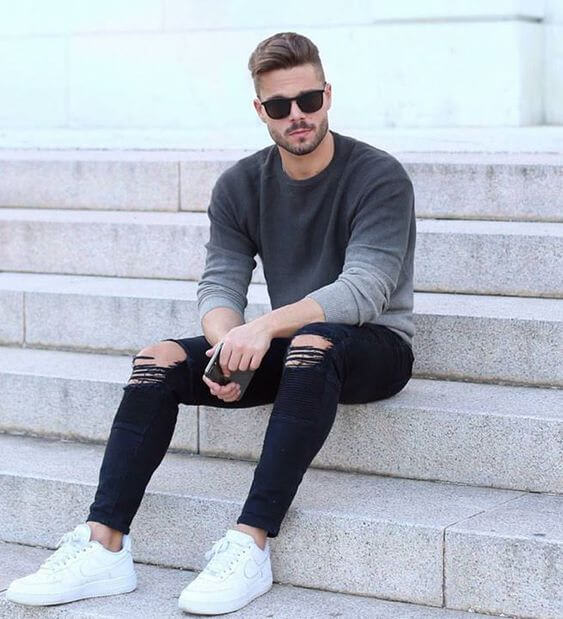 Many people's sneakers compare with sports shoes but sneakers are completely different from sports shoes. But you can wear sports look sneakers.
This outfits like Full Sleeves T-shirts and Black ripped jeans you can try out the sports looks sneakers. If you can see on social media many models, influencers, actors, and actresses now wear white sneakers over ripped jeans, denim jackets, and other outfits.
Ripped jeans have comes in many variant styles like narrow jeans, pencils narrow jeans, and boyfriend jeans styles.
DENIM JACKET WITH ARMY-STYLE JEANS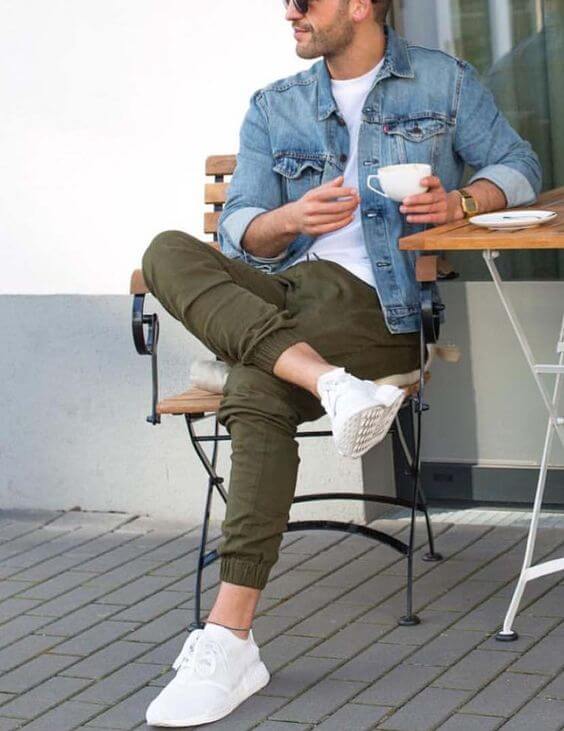 This look is completely authentic and attitude style look, Model wears white Nike sneakers with a Denim jacket outside and a white plain t-shirt is worn inside.
Shoes look like sneakers, many people have preferred these types of a sneaker when going to a gym, tracking, or street fashion style. It's plain net white sneakers.
I highly recommended this style is Streetstyle because of its looks.
SHORT AND T-SHIRT STYLE
Here are two types of styles in shorts when you are on travel time or want to go outside in shorts and a t-shirt you can try out this style with white sneakers.
The first white sneaker is the flat and long white sneakers and the second one is sports types white sneakers but it's not sports running or gym shoes it is sneakers. It's a very cool white sneakers style when you wear shorts and t-shirts in the summertime.
People want to relax and breeze in these types of outfits.
You can check out the amazing stylish suggestion of Ralph Lauren Brand Jeans
T-SHIRT AND TROUSERS STYLE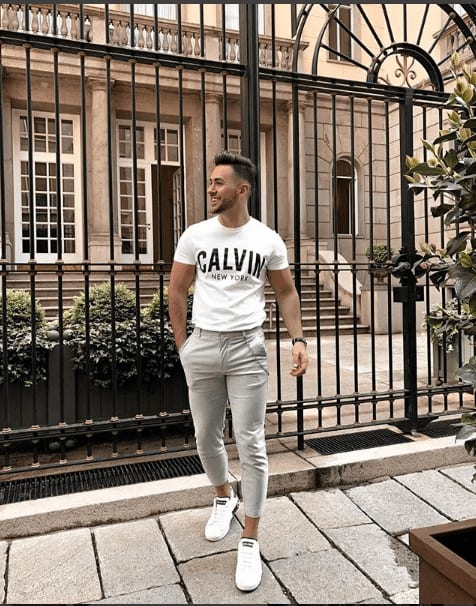 If you can wear these types of an outfit in 90's year people will laugh at you, Many people and still few people consider trouser pants only worn over shirts casual or formal.
But fashion trends are changing day to day and year to year, now models are wearing trousers pants with t-shirts with sneakers.
White T-shirt with Grey Trouser and Flat Lace Up White Sneakers it is a very cool style nowadays, you can wear the matching sneakers with your upper outfits like a t-shirt or shirt. If your shirt or tees colour is black, or red you can choose the same colour shoes or sneakers.
WINTER JACKET WITH BLUE JEANS STYLE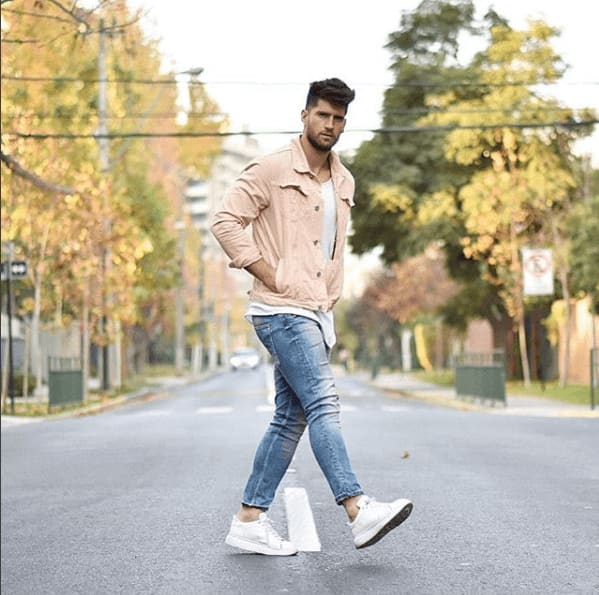 Currently, the summer season is running but in next season is winter many people love to wear a winter jacket on denim jeans. With a winter jacket you can also wear white sneakers just like the above model wear it.
GYM AND JOGGERS OUTFITS STYLE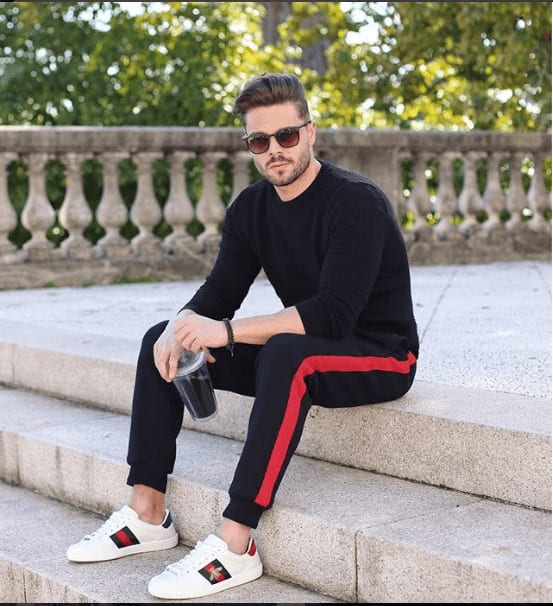 You can wear white sneakers over the gym outfit and dress is also, Over the gym time men and women wear sports shoes for fast strength, energy, and grip.
But, you can style in the gym outfit also with white sneakers. Wear stylish designer white sneakers with a gym outfit. If your gym outfit is white, grey, red, or blue then you can wear white sneakers with it.
BLAZER AND JEANS STYLE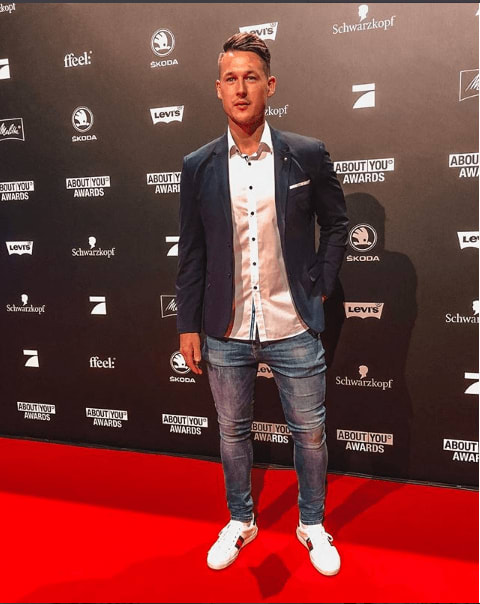 You can wear white sneakers over the event, party, or wedding occasions and also over the blazer and denim jeans. A Black, White Jacket on white sneakers shoes is awesome. But if you want to wear a denim jacket you can wear black denim jeans with a blue denim jacket with a t-shirt inside.
FORMAL CASUAL OUTFIT STYLE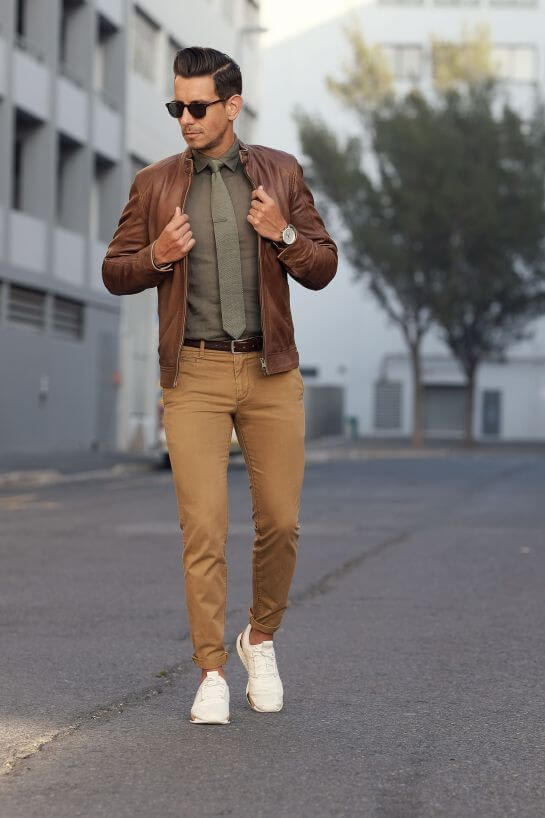 White sneakers have only shoes that increase the charming look. Style sneakers with denim, trousers, shorts, and joggers also with a t-shirt, shirt, jacket, and blazer. The above model wears a leather jacket and trousers with white sneakers. Along with a tie and shirt.
If you yet to planning to buy white sneakers buy best from the Amazon. Most selling white sneakers are VANS shoes, There are other brands also in demand like Adidas, Nike, Puma, supreme, etc.