5 Most Popular Maroon T-shirts Outfits Ideas for Men 2022
Have you ever been confused about what to wear with which colors shirt or t-shirt with which color of denim jeans? Today, I am going to post a few maroon colors outfits in combination with denim jeans, This is an idea purpose what to wear with when maroon t-shirts or shirts.
The maroon color is attractive and stylish color and also hot favorite colors all-time in Men's collections. Maroon t-shirts you have no idea which denim color to wear.
MAROON FULL SLEEVE T-SHIRT WITH WEAR BLACK DENIM.
Round neck maroon long sleeve t-shirt will look attractive in summer also. If you have fair skin color this is the best outfit for you. In the summertime, many men are looking to wear sweat-free clothing material I suggest you go with a 100% pure cotton material t-shirt for getting sweat-free experience.
With this type of maroon long full sleeve t-shirt, you can wear black denim jeans. Black is the only color that fit all colors Because it's dark. There is at least one black jeans collection always available in Men's wardrobe.
Full sleeves are the high demand in men's fashion many men want to wear full sleeves t-shirts style with denim jeans.
MAROON COTTON POLO T-SHIRT WITH BLACK DENIM JEANS
Polo style is the most wearable style from its beginning not just for polo games but the polo pattern is stylish. Plain Polo t-shirts are more comfortable when you are going outside with girlfriend. Girls love the polo t-shirts in men's outfits.
With this maroon cotton polo t-shirt, you can wear two colors of denim jeans one is black denim jeans and the second is blue denim jeans.
The sleeves and Collor color is the blue so you can easily wear blue denim jeans with this type of maroon t-shirt.
You can also wear the graphics print or striped polo t-shirts with denim jeans.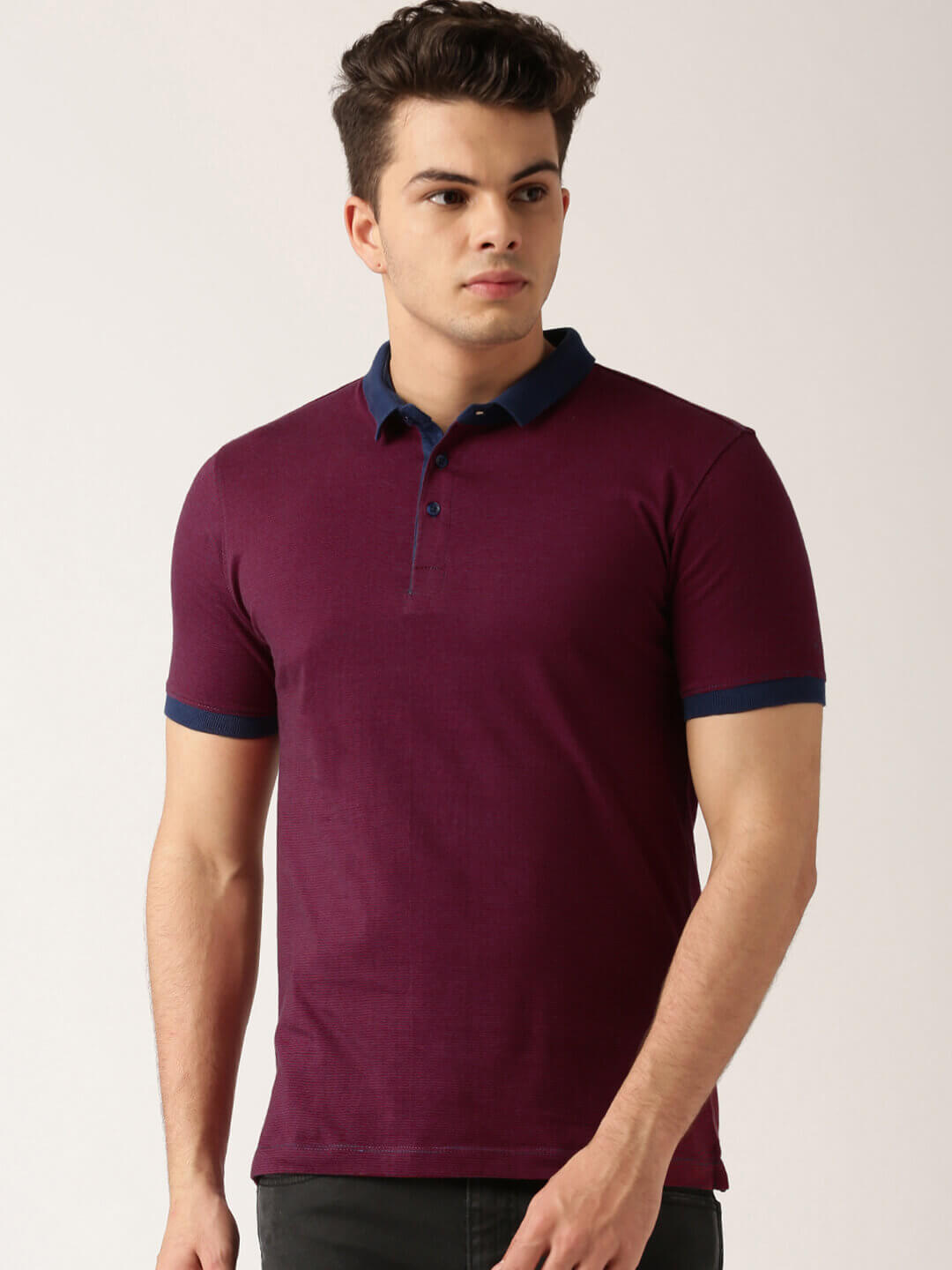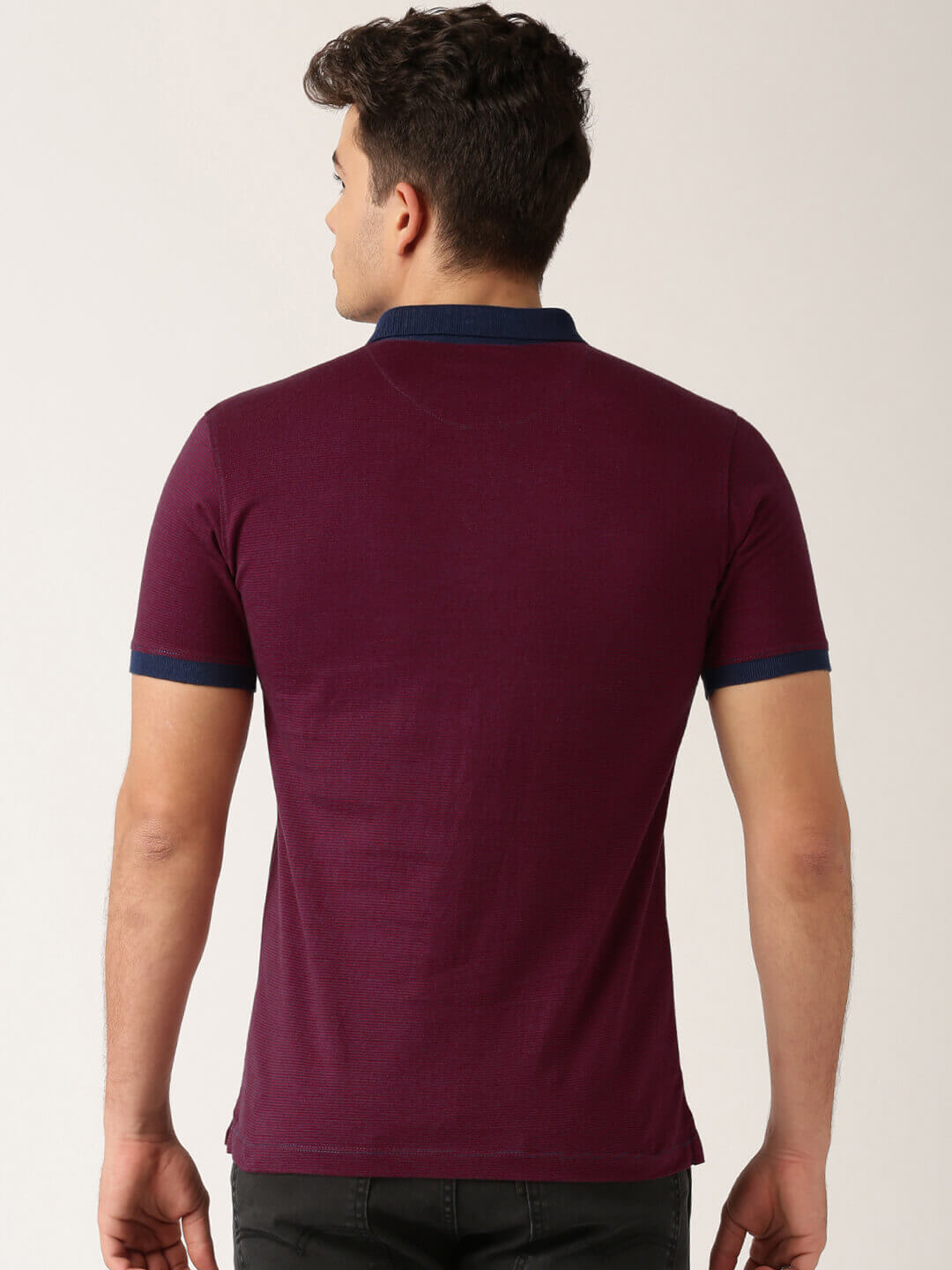 MAROON AND BLUE FULL SLEEVES T-SHIRT WITH BLUE DENIM JEANS
Dual colors of a maroon family with navy blue color round neck and long sleeves t-shirts. A maroon color comes from the red colors family.
Yes, if you think the colors of the family you read correctly. If you add the black colors to the red then the maroon color will be made.
You can wear this dual colors type of long sleeves t-shirt with blue denim colors just like the below inspiration images.
You can also wear white sneakers and shoes with these outfits.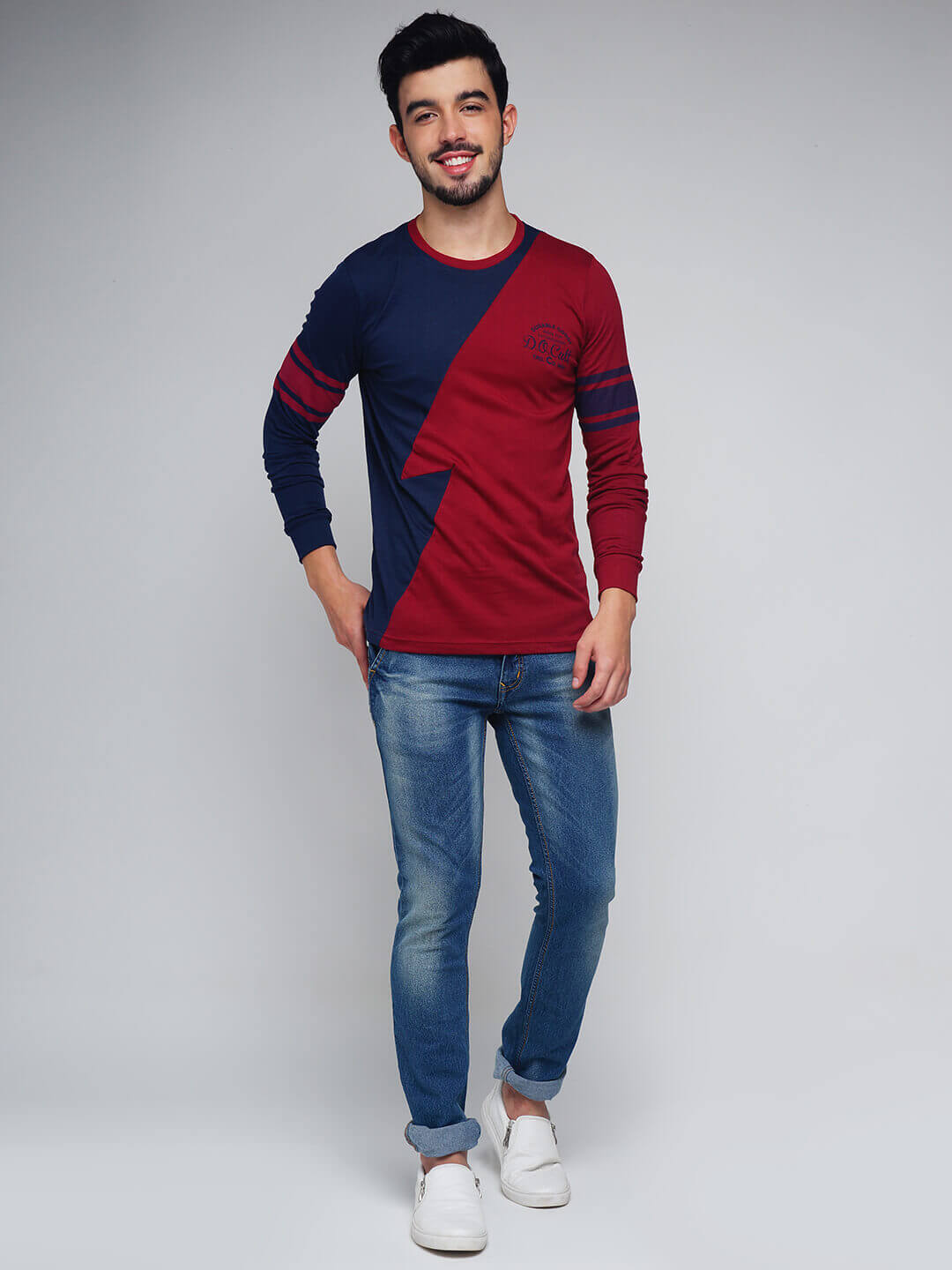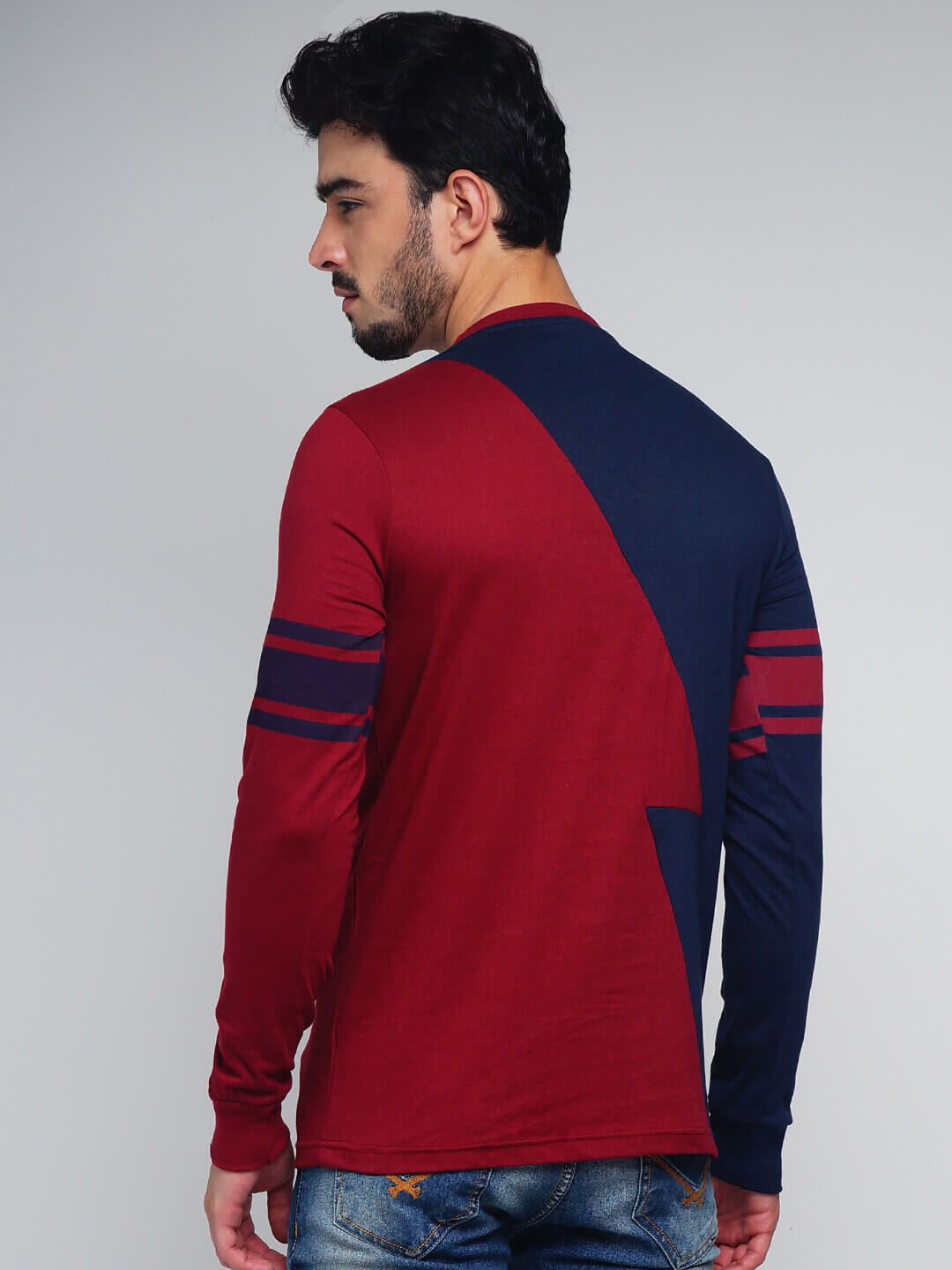 PLAIN POCKET ROUND NECK MAROON T-SHIRT
Men love to wear a Plain t-shirt in dual colors. Blue half sleeves with under pocket style round neck maroon t-shirt wear with black and dark or navy blue denim jeans.
Both denim colors are hot and trendy in fashion. Men's have black and blue denim jeans in their wardrobe always.
You can wear White or blue sneakers and shoes on these outfits.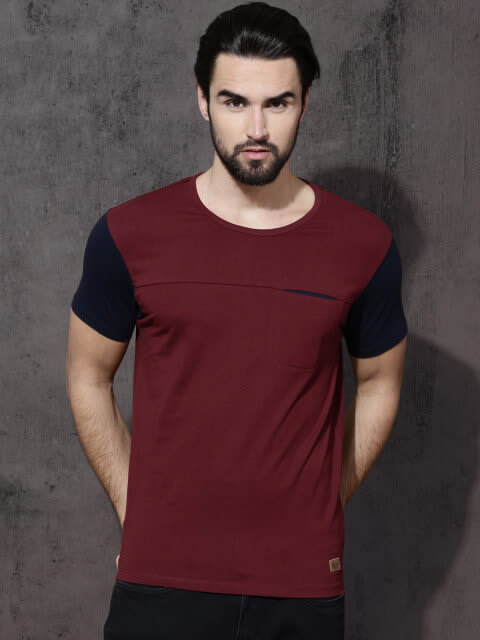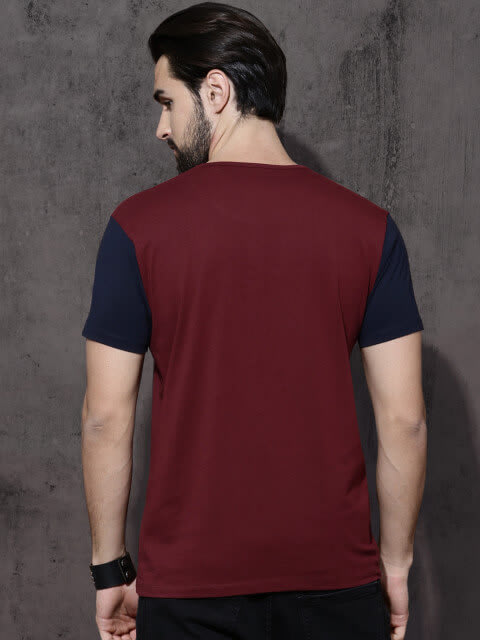 TRIPLE COLOR MAROON SHADE ROUND NECK COTTON T-SHIRT
Triple color style maroon, grey, and a navy blue cotton t-shirt. This type of round neck t-shirt you can wear on light blue denim jeans or washable blue denim jeans.
If you wear dark blue denim jeans which do not look perfect the style of an outfit goes disaster.
Always wear contrasting colors of outfits for looks smart and stylish.