20 Best and Amazing! Alia Bhatt Denim Dresses Style
Alia Bhatt has millions of followers on Instagram and ali bhatt loves to post their fashion outfits and their occasionality. Today Our actresses have the look to die for whenever they are out in the streets, they make sure that they dress perfectly so that they can create a fashion statement of their own.
Common people have often been inspired by them and learned various ways of wearing a particular dress along with a host of other combination ideas.
Our very own style diva Alia Bhatt who shot to fame with back-to-back hits such as Badri Ki dulhania, Raazi, and many more has been spotted often wearing her denim in the most innovative and attractive fashion. Her love and obsession with denim wear are absolutely clear and she remains one of the most attractive Bollywood actresses in jeans. Let us delve deeper into the denim fashion of Alia Bhatt!
ALIA BHATT BLUE DENIM STYLE DRESS
We love denim and if it is a denim blue dress then most of the girls would just be going crazy to get the perfect look! Alia Bhatt in denim dresses has clearly paved the way for a new trend in fashion with youngsters. Perfecting a denim dress with nude makeup makes the look complete and you can add white sneakers if you want to look casual.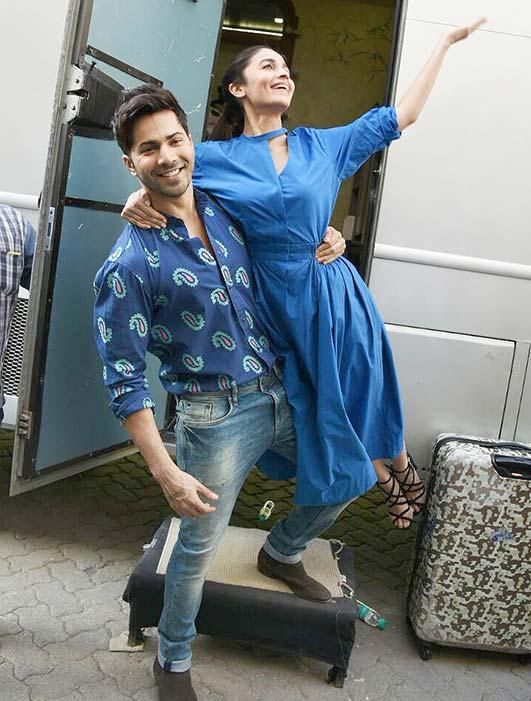 It is one of the most embellished looks that every girl wants to have. Our style diva Alia Bhatt has carried this look in many places and has considerably left people awed with her amazing send of fashion.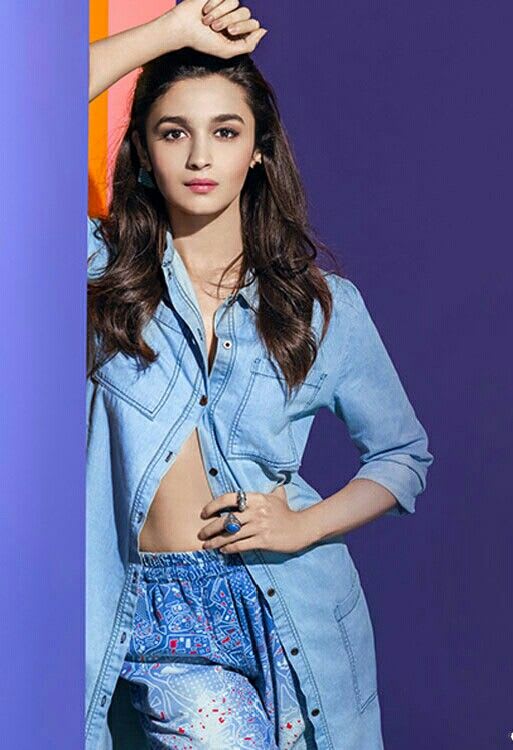 DENIM JACKET STYLE BY ALIA BHATT
Denim jackets are for all-purpose and seasons. It is one such addition to your entire attire that ends up creating a brilliant look! Alia has on several occasions worn the perfect denim jackets along with joggers to get the fresh dewdrop morning look!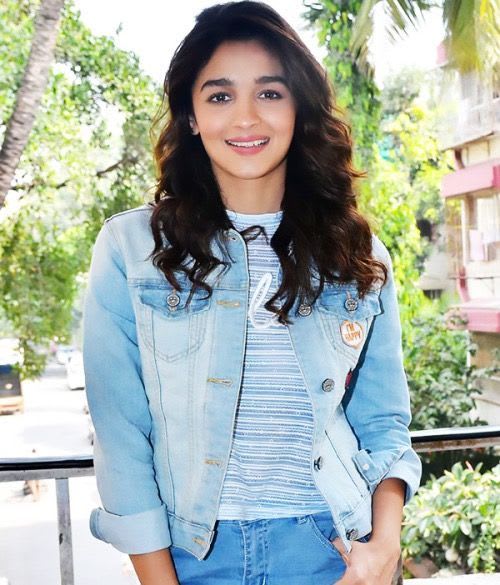 She has a choice of fashion for every occasion and hence leaves a lot to be learned from her. She has used denim jackets with sultry eye makeup and white slip dress to get the perfect enticing look at a photoshoot!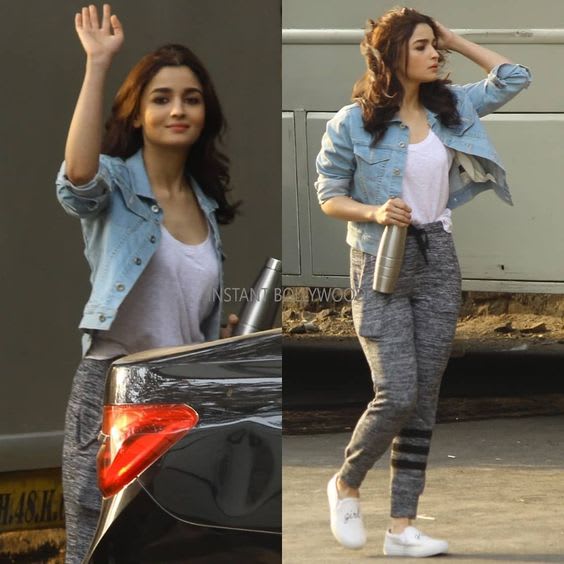 With her followership on the rise, Alia Bhatt style jeans and denim have gained immense popularity among a section of people in the country.
EMBROIDERY-STYLE DENIM SHORTS
Shorts are always trending and fashionable and if they are denim ones then it's the cherry on the icing! Alia Bhatt in denim shorts jeans has created a fashion statement and the uniqueness lies in the fact that the shorts are embroidered! It's a perfect mix of modern and age-old traditional embroidery.
Such shorts are comfortable too and make sure that the perfect casual look is achieved seamlessly.
ALIA BHATT EMBROIDERY DENIM JACKETS STYLE
Fashion at its best is when our glam girl Alia pairs her chinos or boyfriend jeans with embroidery denim jackets. It sums up her summer look and adds a spark to her overall fashion sense.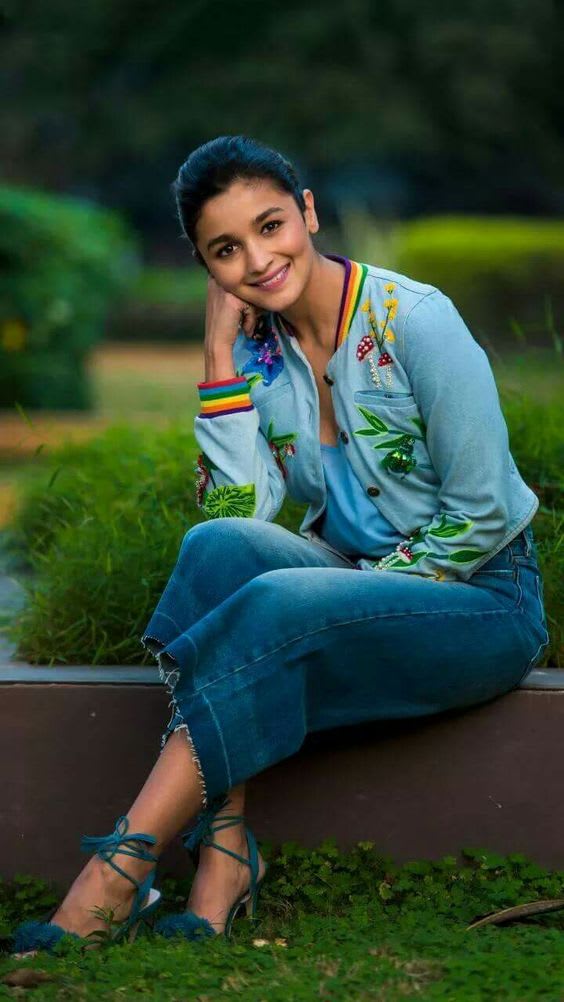 Her choice of dresses makes her the coolest fashionista amongst the various b-town celebs.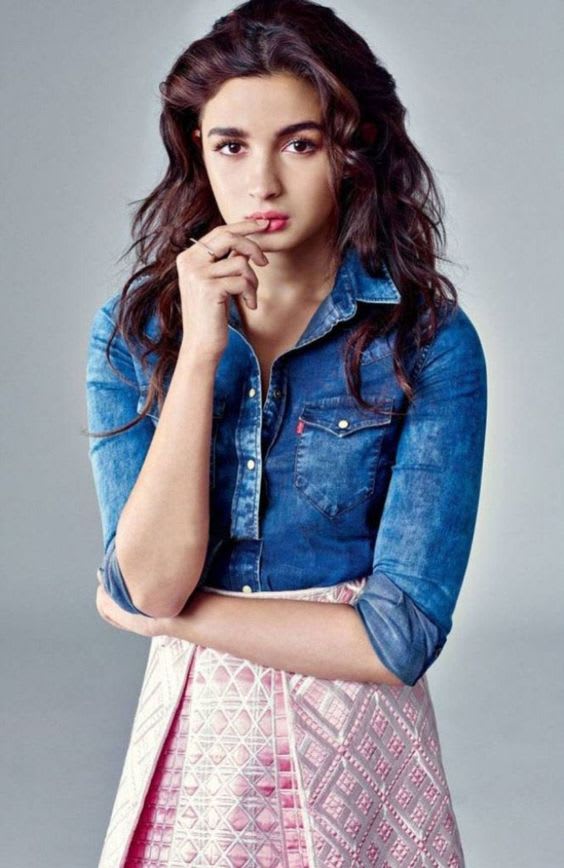 FULL DENIM DRESS WEAR BY ALIA BHATT
Fashion critics may have pointed out that denim is for winter but the b-town diva has proved all of them wrong and carried a beautiful denim dress while promoting her latest rom-com flick Badri ki Dulhania with co-star Varun Dhawan.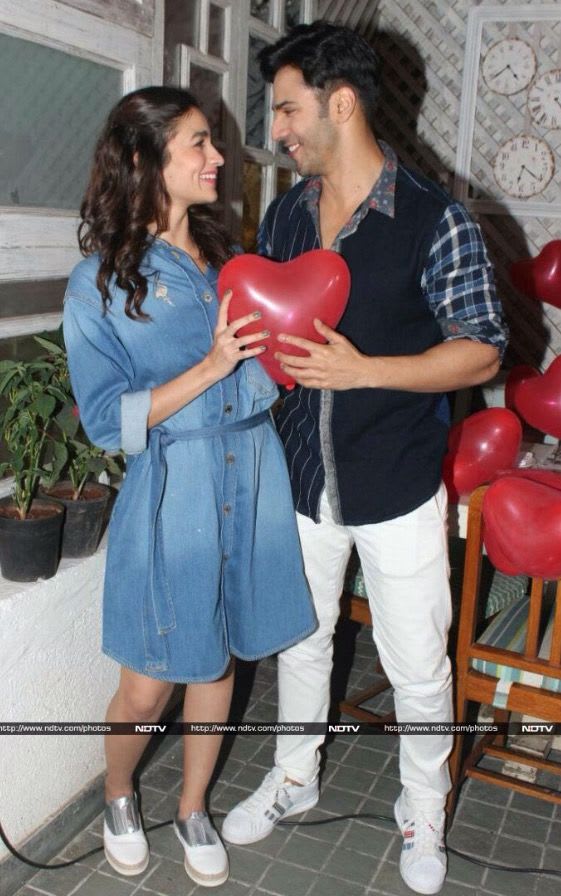 She slew it hard with the denim dress!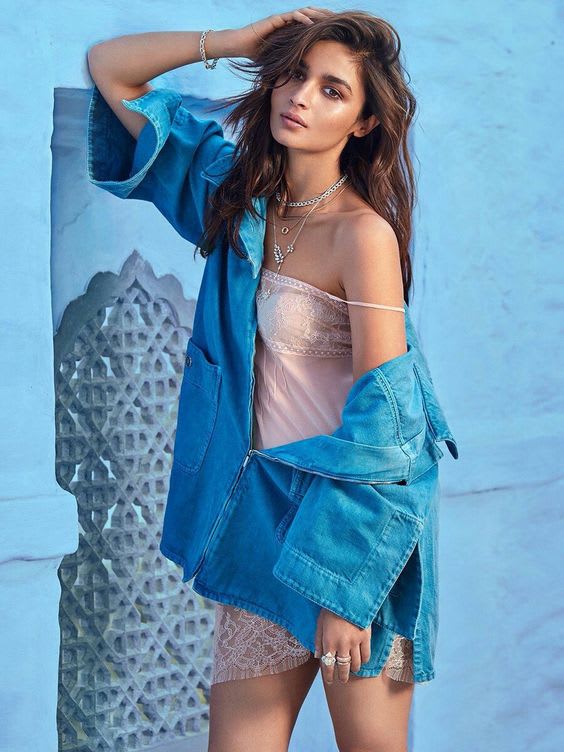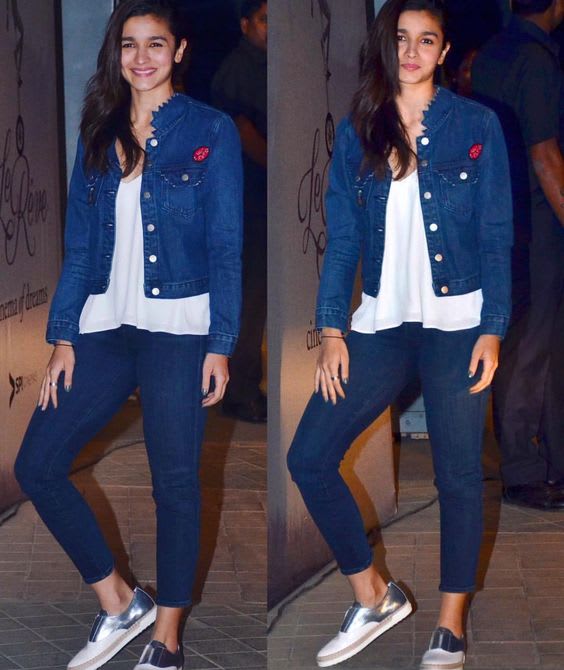 Pair it up like her with a silver or reflector sneaker to complete the look and be in the vogue for fashion.
DENIM TOPS WITH DISTRESSED JEANS COMBINATION STYLE
Covered entirely in Denim, Alia Bhatt raises the oomph level notches higher with her amazing choice of outfits. Denim tops with distressed jeans or washed jeans add a denim contrast to the entire look hence making her look dashing!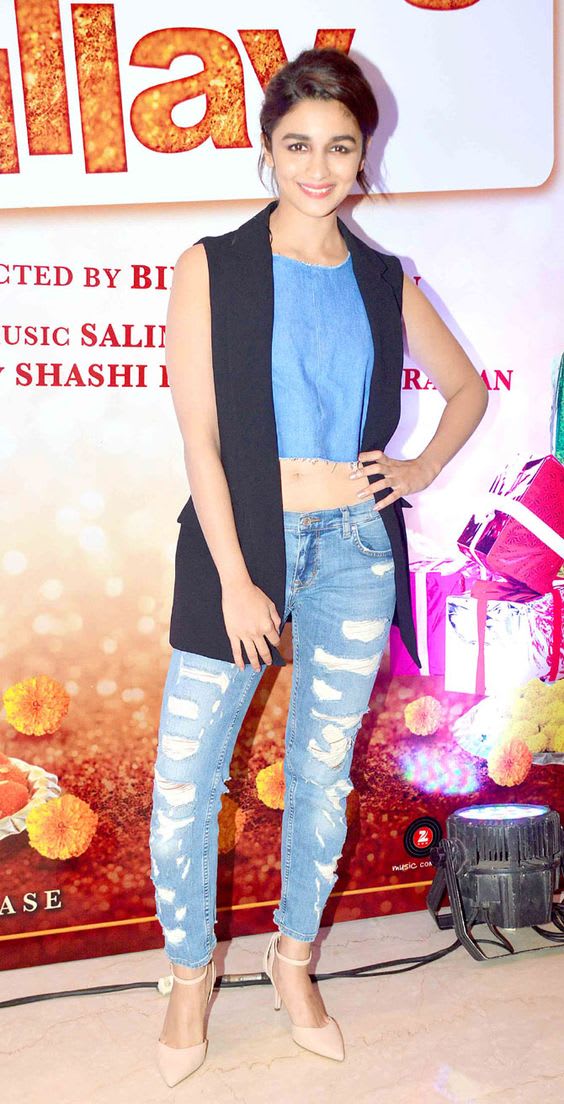 These combinations are for summer and they have a cool tone to them hence allowing a person to be comfortable.
LONG DENIM JACKETS STYLE
Denim jackets generally are used to amply any casual look. However, long denim jackets can stand alone and create a statement of their own. Pair your long denim jacket with a white slip-on top to get the combination right.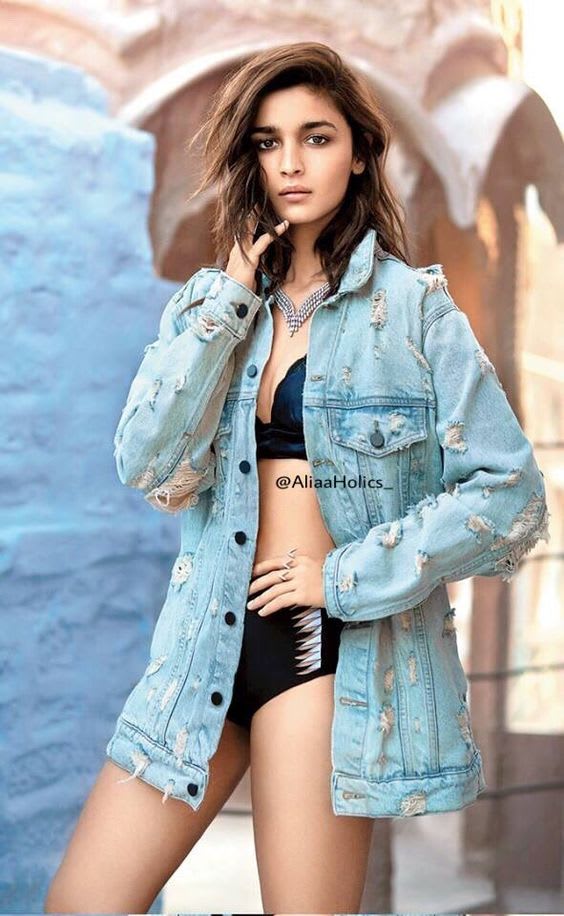 Alia Bhatt's fashion sense is stalwart and is the epitome of denim love and perfection. This girl is definitely into denim more than anything else right now!
DENIM JACKETS WITH SHORTS COMBINATION STYLE
This is the perfect summer combo and the epitome of a causal summer look! Alia masters the art of perfecting whatever she wears and hence it is reflected by the coolness of her attitude.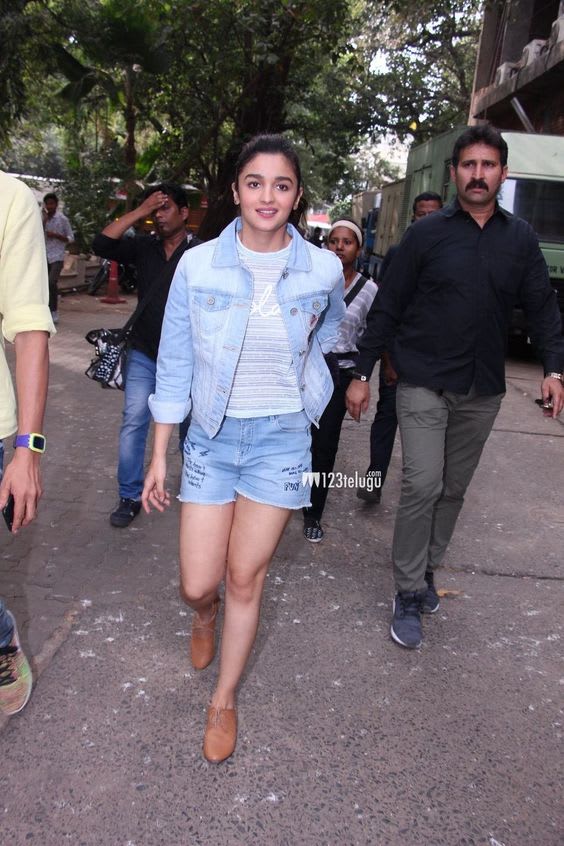 Women love shorts in fashion in 2020 fashions time. Many women wear denim shorts, and cotton shorts also. Ali Bhatt is also a fan of denim and she is wearing denim shorts occasionally while on shooting, ads shoot, or in any event visit.
Ali Bhatt's height is the normal Indian height not so long not so thin. Alia Bhatt height is 5.8 inches and it is the common height in Indian Girls and Women.
Denim shorts are good looks on these types of heights. If you are thinking to wear shorts in the coming days go for it.
ALIA BHATT DENIM DRESS STYLE
Alia recently completed the vogue fashion photoshoot in Jodhpur, You can is the below image blue old place where alia photoshoot was done.
With Black high heels footwear, Alia wore a denim fabric dress with a shoulderless pattern style.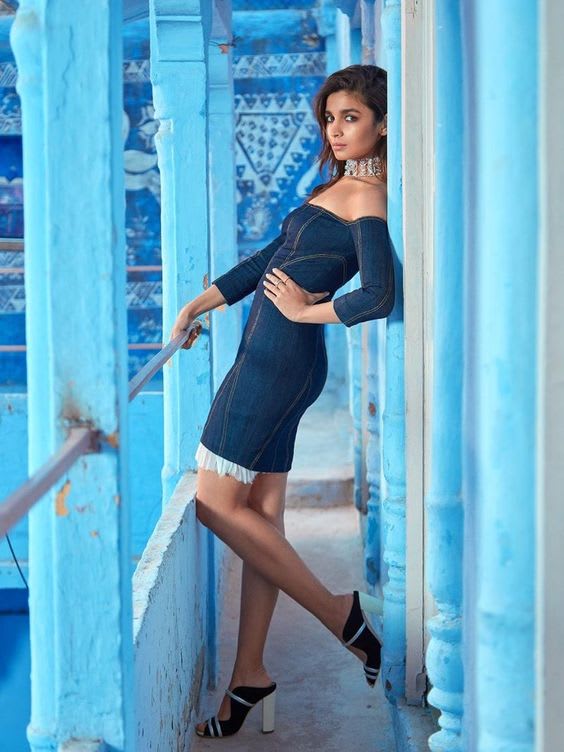 If you are a model and Alia is your idol model and copy her style and fashion outfits, This is the awesome denim style and poses you can try on your next photoshoots.
You can buy these types of dresses over the myntra and amazon fashions.
DENIM SHIRT STYLE BY ALIA BHATT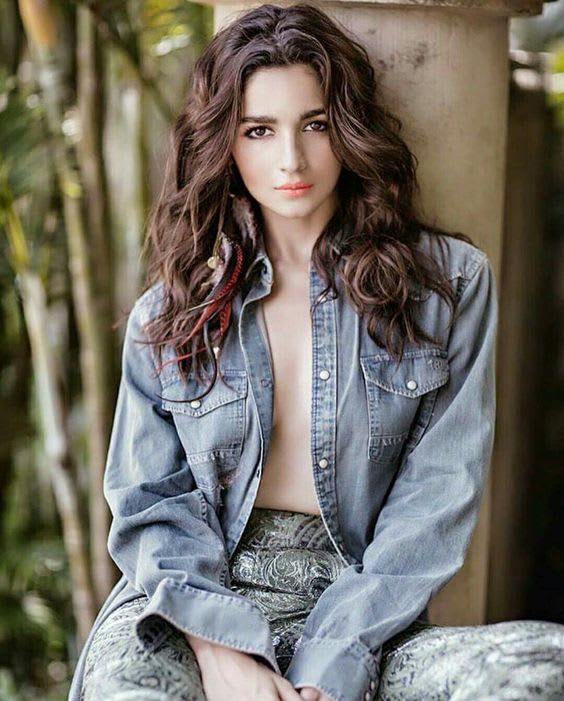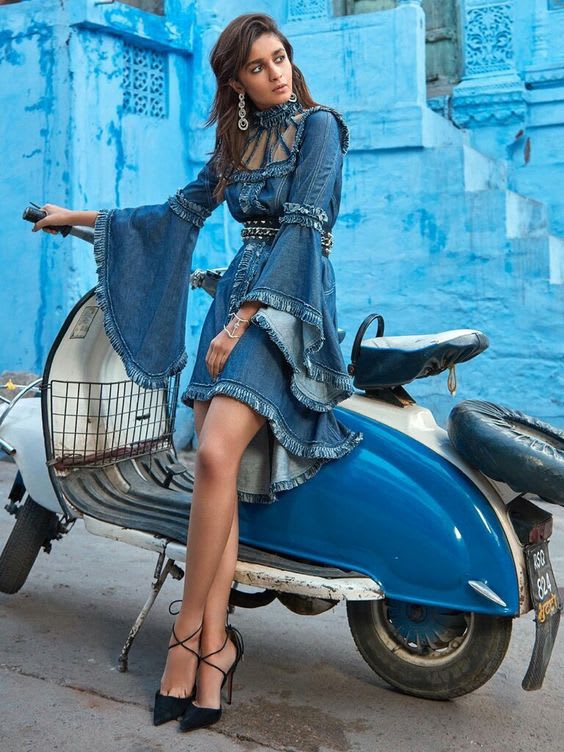 DESIGNER DENIM DRESS ON VOGUE PHOTOSHOOT
If anyone ever thought about denim to be just casual wear then Alia Bhatt's recent Vogue photoshoot is something you must consider watching. In the shoot, the various designs of denim dresses that were worn by her were simply outstanding and mind-blowing. The shoot comprised everything that was denim, it had denim flared to denim dresses and name anything made up of denim! I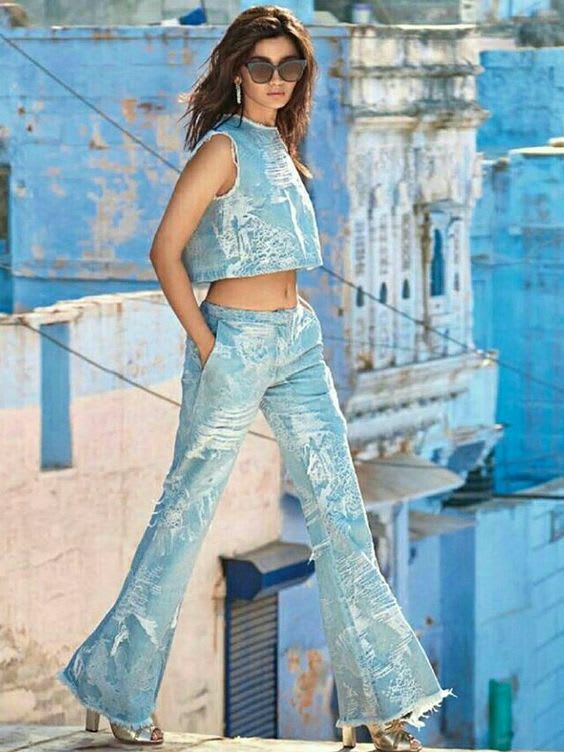 In the shoot, Alia perfected the uber chick look and established the fact that skinny jeans are a trend of the old, now it's time to move on to flared and boot-cut jeans. Throughout the entire shoot, the depiction of the denim will have denim lovers gasping for breath.
Alia Bhatt in ripped jeans for the shoot made the trend of such jeans back in vogue and now they are immensely popular in the market. The plethora of denim tops that were set on display with this photoshoot was huge and ranged from bell-sleeved tops to frilly tops, they had covered it all.
Another amazing theme that the photoshoot took was reflecting a bohemian look on Alia Bhatt as she adorned heavy junk jewelry and silver jewelry for contrasting it with the blue color of denim.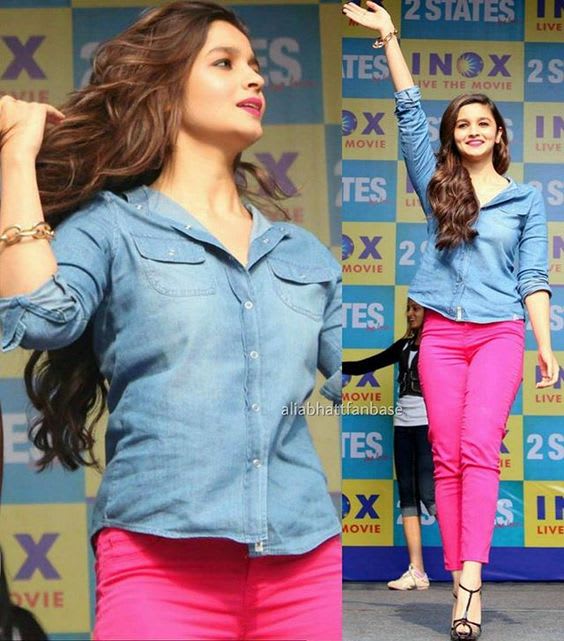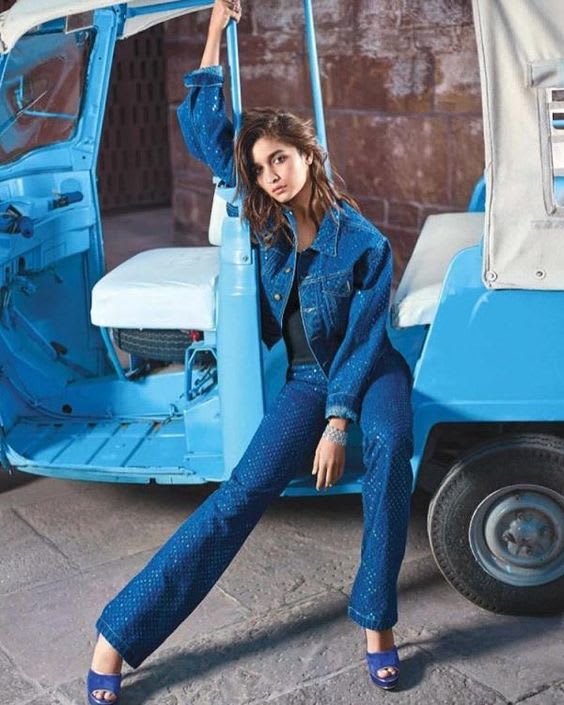 Shop the look
Bollywood celebs bring life to clothes due to the way they adorn them. The look they successfully achieve is envied and adored at the same time by many people out there but they cannot get the proper combination. If you are looking to get Alia Bhatt-style denim outfits then you can get a host of these available at the various online stores.
There are some selective websites that completely assemble any of the looks that have been discussed here and sell them as a set. Ali Fashion has always been an influential element and as people increasingly become fashion-aware, they keep following celebrities to understand their fashion and inherit the same.
Alia jeans-style can be alluring for most teenage and youngster females as jeans are very popular it can enhance the coolness quotient of any look if properly combined! Apart from the online stores you can also look for these in the numerous shopping malls and branded clothing line retail stores, these big brands collaborate with celebs and sell what they wear and popularise.
Alia Bhatt clothes online buying shall enable you to get a wider variety without going from mall to mall and stressing yourself out. With a click on the mobile phone, you get access to a huge variety and also many offers that you may not get at a physical retail outlet.
You can Google any of these looks in the image search section and will surely get hold of websites where you can shop for the look! Hence, Alia Bhatt dresses online shopping is convenient if you want to get the look perfectly while also being on a tight budget!
Conclusion
Every person makes a statement with the clothes he wears. Amongst all the gorgeous Bollywood divas, Alia Bhatt stands out due to her sheer love for denim. You have already read that she handles any kind of public appearance with denim, it remains her first and only choice!
If you plan to get suitable denim for yourself then make sure that you keep close track of the emerging footwear trends because the right footwear shall amplify your look and create an overall fashion statement. Alia Bhatt has been in the news for all the right reasons right from the launch of her career. Her mature acting and gorgeous appearance make her one of the most desired leading ladies Bollywood has ever had. Cheers to her fashion sense!