7+ Best Sexist Ripped Style Denim Jeans (Women)
Ripped style denim jeans on a fashion style in current days ripped denim jeans are in trending in women and men, Especially mostly women and men are wearing the ripped style denim jeans on street fashion, events, dating, vacations, etc. In our wardrobe, there are at least 7 pairs of jeans available out of 10 means denim jeans are so much popular in the youth since denim was launch in the markets.
Currently, if you see ripped style denim jeans so popular which you can wear with t-shirts, casual shirts or tops. Many Bollywood stars also wear ripped denim jeans you can inspire them too.
BLACK RIPPED JEANS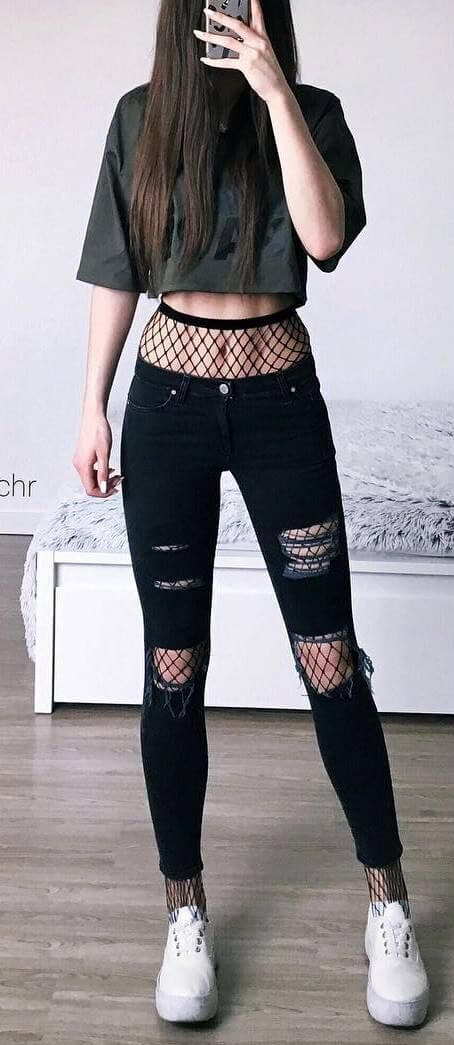 The Black ripped jeans style is most popular among women. Black color is the most wearable color many women and men are wearing black outfits some-time black shirts, black denim jeans, black shoes, etc. In the ripped style, there is also a black color option. you can wear with slogan t-shirts, tops, shirts or jackets.
You can add more style to this type of black ripped jeans as well like wearing a net with jeans or something. With this kind of outfit, you will look hotter than you look already.
BOYFRIEND HIGH WAISTED RIPPED JEANS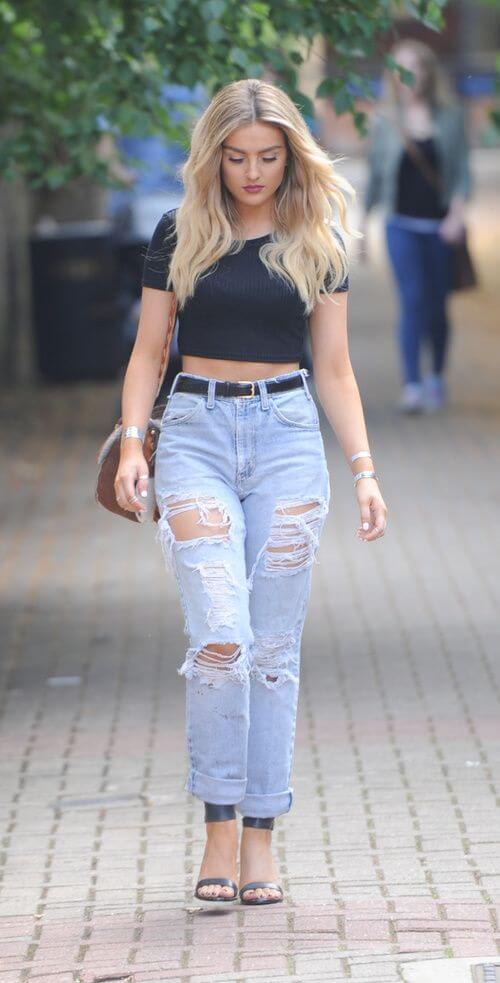 If there is denim there is a style come. When two styles come together like boyfriend and ripped styles both styles are trending in the denim market. Boyfriend and ripped style denim jeans have a high-waisted style. Multi ripped cut light blue denim jeans which you can wear with black tops, and white tops. In the summer season, you can wear sandals or chappals as per your choice.
WHITE SLIM-FIT RIPPED JEANS

White ripped jeans are also popular among women. Slim-fit denim jeans with grey t-shirts look perfectly street fashion style. You have an option too with these white skinny ripped denim jeans you can wear in black, blue, red and maroon color. It is your choice which types of t-shirts you can wear but I suggest you can wear loose slogan t-shirts with ripped jeans.
BLUE SKINNY FIT RIPPED JEANS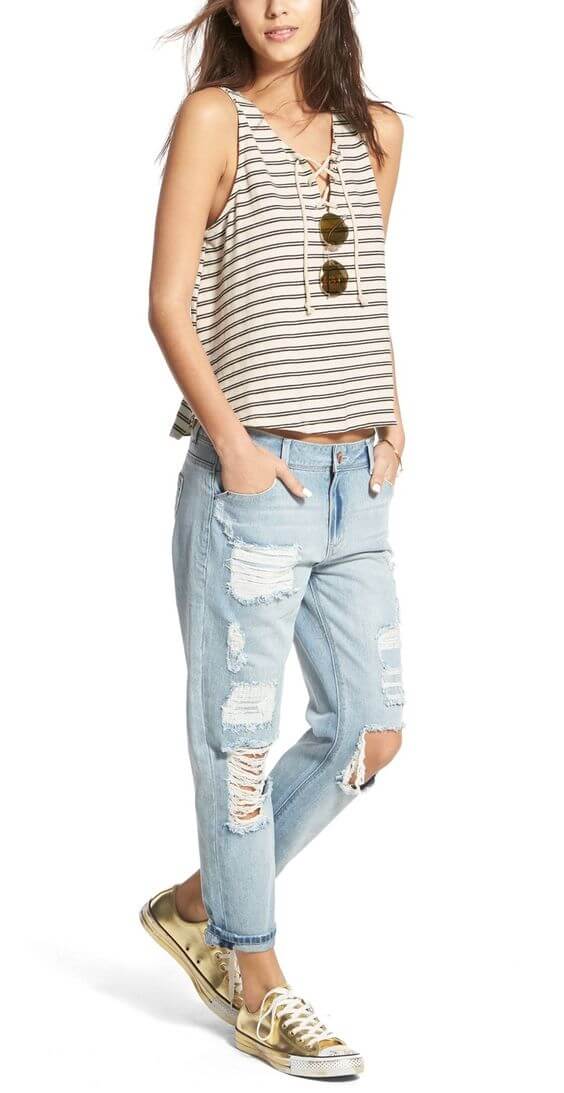 I call this outfit complete college outfits. When you go to college, and movies this type of outfit is best. Ripped Jeans and Sleeveless loose tops. And Golden Sneakers shoes complete cool outfits this summer as well. You can wear the other color tops and sneakers on these ripped jeans as well as per availability or choice.
BLUE RIPPED KNEE SKINNY JEANS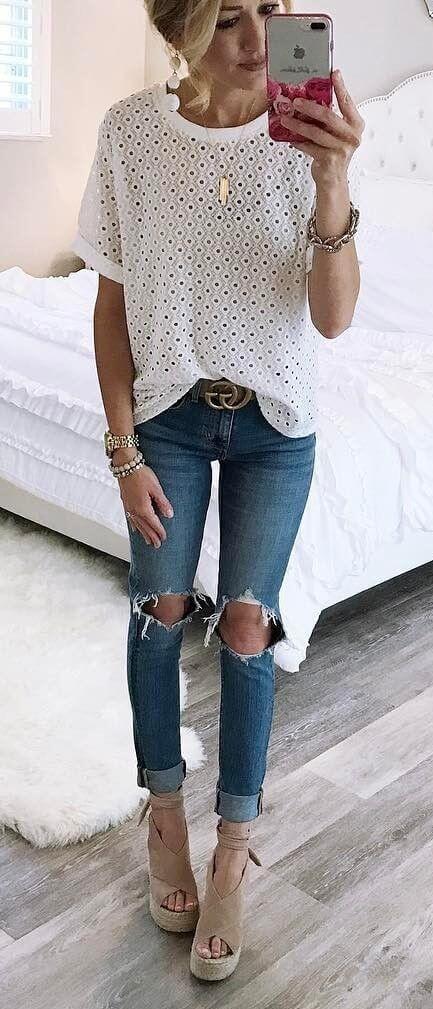 Want to look simple and cute in ripped jeans this is the perfect blue ripped knee skinny jeans option. White tops and low-waisted one-cut ripped denim jeans. This is the perfect outfit who want to go with a boyfriend on a date. Ripped blue jeans with you can also wear a different color of tops or t-shirts like maroon, black, white, grey, pink, red, etc.
BLUE KNEE RIPPED JEANS

Everyone wants to look stylish and attractive when going out or going street shopping. And women want a little more to look stylish just because of special attraction. Blue knee ripped jeans are the best jeans for those who want to wear stylish street fashion outfits. Tops with folded jeans (as you require). You can try out other colors of t-shirts as well as black, pink, red, cherry and maroon which all look very attractive colors in street fashions. Shoes, Sandals, Or Shoes sneakers are much better in this trendy style.
SEXY CUTE RIPPED JEANS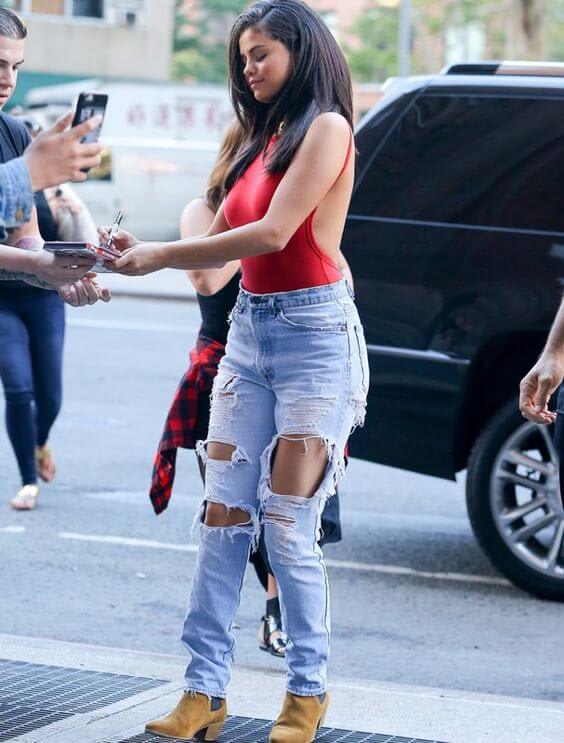 Some women want to look sexy and cute as well. When Hollywood actress Selena Gomez wears trendy ripped jeans we all want to copy or want to look similar to them. Red backless tops and Trendy Blue Ripped Jeans. If you want to go to pub parties, women's parties, or street fashion these sexy ripped jean is good for you. Knee and thigh cut ripped jeans with red sleeveless tops or t-shirts. You can also wear the back lace tops on the ripped jeans. Brown shoes or sneakers you can wear with these outfits for looks hotter.
FRAYED HEM STYLE RIPPED JEANS

Light wash ripped denim with frayed hem style ripped jeans. It's a cool light-color denim jeans which you can wear with long t-shirts, long tops, or ethnic kurtas. It is like Indo-western style looks. You can wear long necklaces with this outfit and wear leather shoes or sneakers for looks unique.
SUPER RIPPED JEANS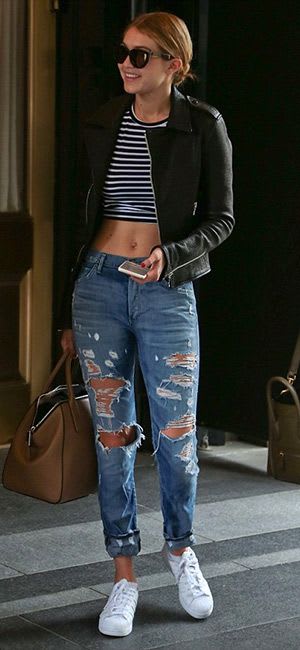 Don't get shocked if you heard the first time the super ripped jeans name, don't think mind you become superwoman after wearing this type of ripped jeans. It's a style name "super " just because there are lots of cuts and ripped jeans. When your husband or boyfriend wants to look sexy these are the best jeans ever. Wear with Formal Tops, T-shirts with Jackets or without Jackets. White, Blue, Black Women Sneakers and Sunglasses as per choice.