Best casual shoes for men with the latest collection which you can wear on casual time with jeans as well. In 2021 men can wear casual shoes with a stylish t-shirt or casual classic shirts for streetwear. I am going to show you here casual shoes which can not gonna outdated and good to look when wear that is casual shoes. A few conversion with fashion style expert about casual shoes they can tell us you can try out sneakers, loafers, sports shoe kind of pair with jeans to look more versatile shoe fashion.
In men's shoe collection there is few pairs at-least need as women have so they can switch as per time occasion, not single shoes can wear all occasion with different attire. For casual occasions like out for dinner, shopping or any free activities put casual shoes in the closet, Business time required business formal shoes and for sports, any workout activities required workouts shoes for men that means required three to four types of shoes least have it with men.
Nike Best Casual Shoes For Men
Nike is the world leading shoe maker they can introduce new design and pattern especially in sneakers and sports shoes and sneakers shoes are consider in casual shoes obvious we all know about that,
Nike React Infinity Run Flyknit 2 Casual Shoe
This Infinity Run Flyknit shoe can wear over running workout time as well over casual time as well because their design and color are set for that by Nike. You can go in black or blue jeans with white or black kinds of tees to look more fashionable. It completely flat and high foam material used for much comfortable after wear it. If you searching something comfortable shoe then this the best one.
Nike LeBron 18 Low Casual Shoe
Lebron is a come Nike brand that can use for basketball time wear shoes a flat shoe with transparent rubber use for better protection of feet knees. This black Nike casual shoe for men who can try out any type of outfit like blue jeans with a black t-shirt or shirt.
Business Casual Shoes For Men
Business casual outfits for men required the perfect business casual shoes that can provide relaxed, comfortable and suits with personalities or over casual blazer outfits. In current fashionable time, there are multiple variations of casual shoes available which can wear on daily corporate time as well include style on demand. Choose the best types of shoes for a casual business meeting.
Loafers Business Casual Shoe
Loafers are popular in men and everyone knew about them if you do not have loafer pair then now it is time come to add them to your shoe collections. Loafers shoe can easy to wear with the casual dress even over with business outfit as well. Loafer has come with laceless and easy to tackle if you can choose the brown or black type of loafers which can suits completely with your casual outfits. Try out with a casual black shirt, blazer with jeans or trousers.
Dark brown, brown and black loafers are the most suitable casual loafers shoe which can give a business attire look. A dark brown loafer casual shoe can wear with trousers like off white, cream and brown-black type of color combination
Derby Casual Business Shoes
Derby shoes are introduce has a classic shoe that can give additional to any kind of business casual outfit. Derby is perfectly look with multiple type of outfits (with t-shirt, shirt, jeans, trouser and blazer) You can wear this derby shoe for office work and business meetings this can maintain a style between your personalities and outfits.
Gray Derby Casual Business Shoe
Grey color of derby casual shoe can without sharp-pointed from toe can give perfect with trouser with casual blue or black shirt combination if searching something for a white shirt this can go with that also perfectly. To looking more professional with then wear a casual blazer with your formal dresses shirt and pants to better impression create the front of the office staff.
There is another collection also available but the blue-related color suits much rather than other funky one that can create funny while wear with casual business outfits. Blue color is the men personalities suitable color with this you can try out denim jeans, t-shirt and shirt with color of blue, black, white type of combinatoin.
Black and White Casual Sneakers Shoes
Sneakers shoes are considered casual shoes since they are introduced in fashion. But find out right and perfect pair of sneakers shoes is not easy for men even there are quite possible few men can only consider black and white casual sneakers shoes all time so here they can choose if you designer and different pattern black and white casual sneakers shoes for their casual outfits.
Puma White and Black Casual Sneaker Shoe
Puma is the leading manufacture of footwear and it has lots of variation in sneakers here is white with black sneaker shoes is a best casual shoe for men because of white sneakers shoes is most demanded pair all around the world it is combined with denim jeans casual wear.
Puma Black And White Casual Sneaker Shoe
Black with white color sole and pattern casual sneaker shoe can wear any casual out like denim jeans with a t-shirt or any color of printed or vertical slim fit striped shirt this pair of the shoe looks perfect casual attire. Try out most of the wear with the white or bright color of shirt can be best one.
Levis Black Denim Casual Sneaker Shoe
Denim fabric material casual sneaker shoe is quite a classic pattern and design but still many men have to demand a flat feet sole sneaker shoe can combination with obvious denim jeans and t-shirt or shirt for a better casual look. If you are searching best casual shoes for men then this one pair has at least try out once to get complete your shoe collection.
Best Black Casual Shoes With Jeans
There is full black shoe fashion also boom just like only white sneaker shoe is popular, black casual shoes can wear with jeans and semi trousers or cargo type of pant to looks more cool and casual attire. You can go with a black t-shirt with grey trouser pant with black casual shoes or you can wear blue denim jeans as well with a black t-shirt
With black casual sneaker shoe can go with chaos trouser with polo t-shirt to look extra charm and professional personalities give too. If you have to go any casual professional meeting this one help you out. Black casual shoes with trouser with polo t-shirt.
Leather Casual Shoes For Men
When we think about leather shoes there formal shoes come only to the mind but there are casual shoes also available in leather foam. Best casual shoes with leather material made with branded Red tape, Aldo, and other brands which are famous in the leather shoe market. You can wear these leather casual shoes as a business time as well.
Men Brown Leather Casual Loafer Shoes
Brown leather loafers can wear with any casual or professional formal dress to look charmed and casual personalities. Off-white with black or brown kind of shirt can look more attractable you can wear blue shades of outfits as well like below inspiration image. You can also try out out a vertically striped shirt too rather than a plain one.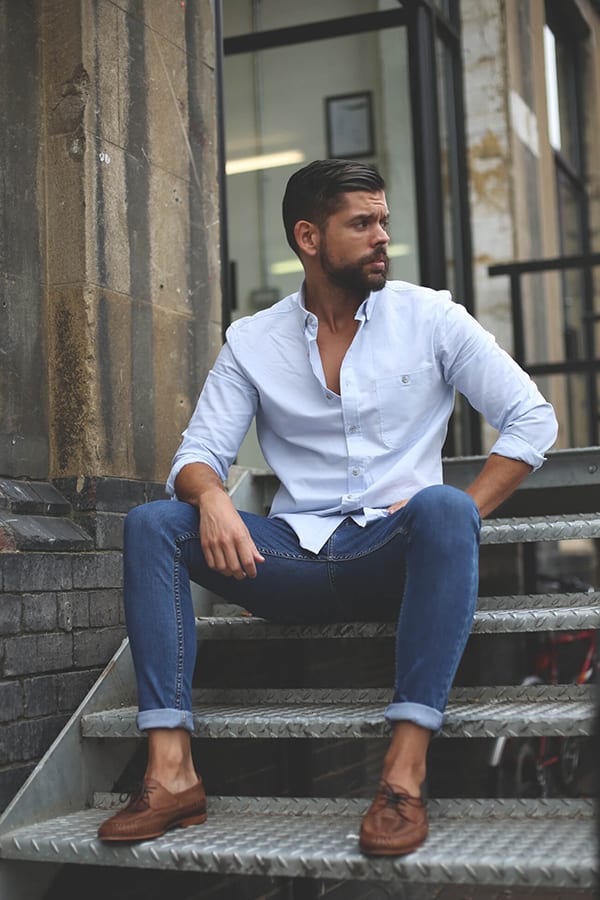 Brown Leather Derby Casual Shoes
A strong derby-style leather casual shoe for men can be the best casual shoes for men because of their stitches pattern around the cut of the shoe.
FAQ
Which Brand Is Best For Casual Shoes?
There are multiple brands which can you buy for casual shoes that is ALDO, Timberland, Nike, Skechers and many others. You can search as per your requirement over amazon for best relay way to purchase.
What Are The Most Comfortable Men's Casual Shoes?
The most comfortable men casual shoe is loafers and sneakers which can consider in casual shoe as well it will set with trousers and denim jeans both style so men have multi range of fashion and style with casual shoes.