10+ Stylish Oversized Denim Jacket Outfits Ideas
Oversized Denim Jacket is in high demand in women rather than in men. And The Denim is one and only fabric that demands in kids to old people generations, ZERO haters to denim not because of quality but style. These fabric outfits have tried with any fashion and outfits. Denim jackets have much popular in a few years and every type of size people want to wear jackets as per body shapes. Denim's best part is that it not get so bored to choose a fashion combination style you can try out with other outfits like T-shirts, Pants, Shirts, etc.
After the denim jacket comes in a market it's growing day by day because it is denim fabric reflect style outlook. There are the plus-size auditions also in the demands of wearing a denim jacket.
Many big brands include Zara, levis are manufacture denim jackets especially for plus-sized buyers. Denim Jackets has come with many denim colors, length and thickness material. WATCH OUT. How to Wear Oversized Jacket.
LONG SLEEVES OVERSIZED DENIM JACKET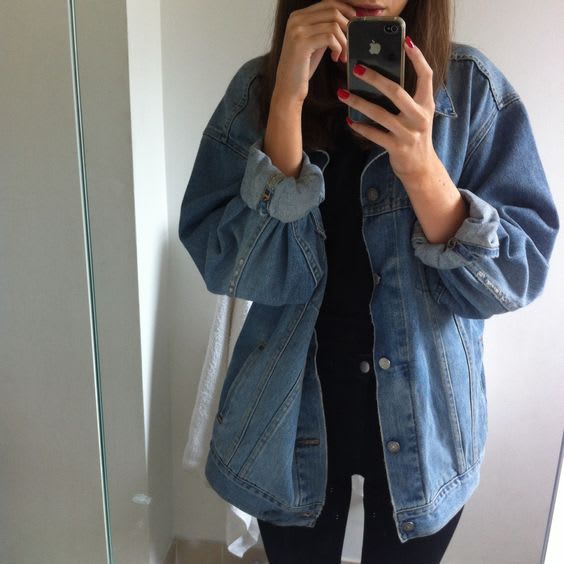 When required stylish looks on oversized denim jackets just folding denim jackets cuffs sleeves, Experiments with cuffs sleeves for looks attractive but keep in sure cuffs has a proper way, not any crease. More than half of the body has been covered by a long-washed denim jacket. If you are jeans lovers have to switch jeans to shorts and try out jackets with different colors like white, red, navy blue, brown and dark also.
BAGGY ZIPPER HOODIES DENIM JACKET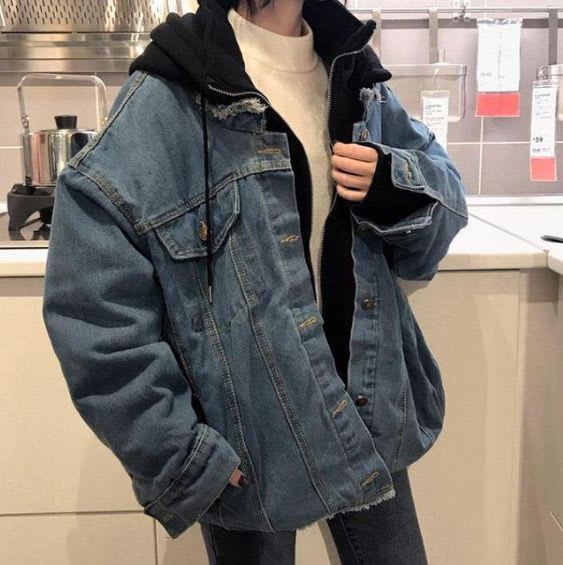 This head covers up hoodies are trending in winter for keeping your head warm you can find out the hoodies option in a denim jacket as well. Every woman has need hoodies in her wardrobe then why not this denim hoodies jacket. Above is the oversized and baggy zipper hoodies denim jacket style.
LONG OVERSIZED DENIM JACKET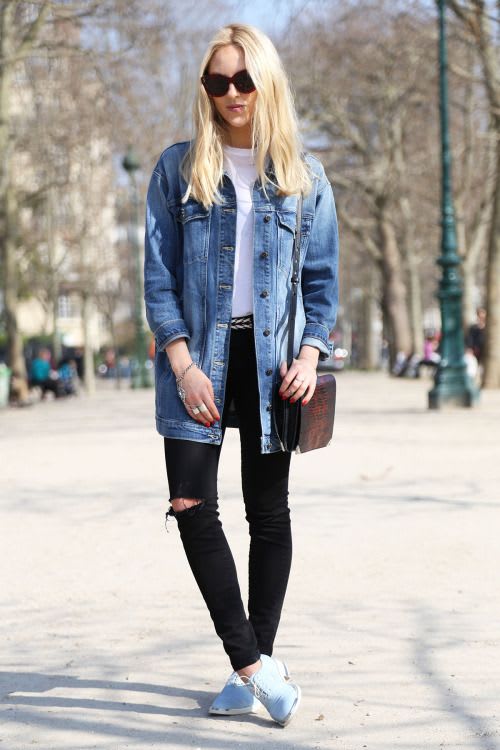 Long knee-length denim jackets have a trendy and stylish feel, Long denim jackets feel more stylish. The oversized denim has long been a grunge style, The bold style of an oversized denim jacket, no issue how much it is the weight but always demands a bold outfit. Remember one thing you just keep balance with your style and comfort.
The models wear a denim jacket with black distressed jeans, white flat sneakers and shoulder messenger bag. It is a damn stylish outfit for a fashion streetwear or weekend outfit.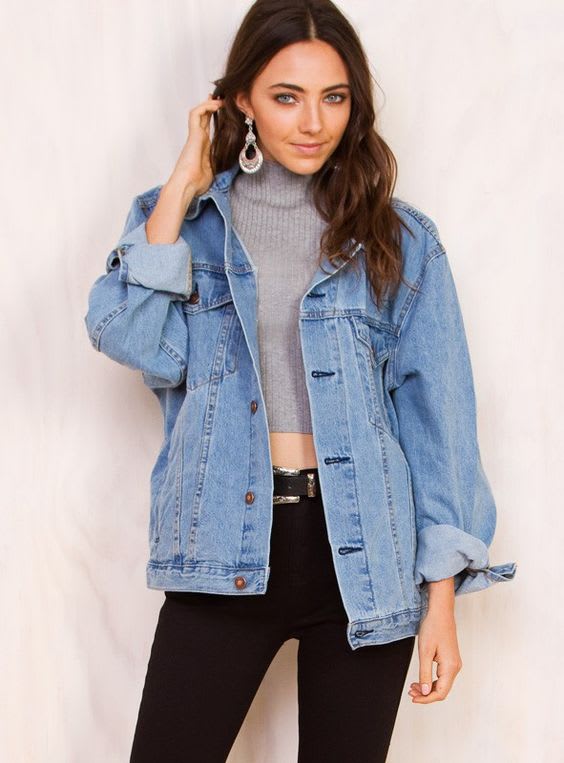 A perfect look of a denim jacket outfit for women's style. Since the denim jacket launch and become popular above types of denim jacket are always in trend no matter on which age are you and which waist size you have; Mostly women dress up the denim jacket with a black color or dark shades of color combination. suggestion tips try with texture, stripes lines, and plain colors also try.
There is no rule to wear denim with a perfect combination but for just more looks good otherwise, denim is the only one fabric material which fashion with any kind of color combinations style it does not go dull.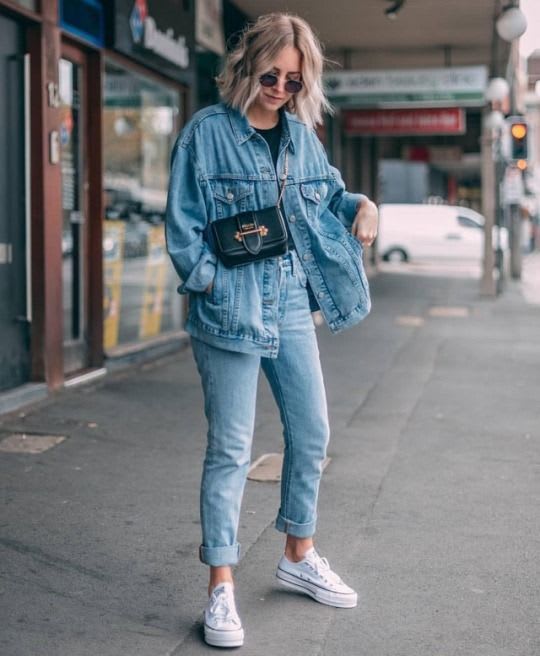 Denim Jeans with Denim Jacket fashion is very classic. High waist Denim jeans with Tshirt and wear oversized denim jacket has perfect denim on denim look, make sure you wear sneakers with it because of white women sneakers shoes will charm your look in denim outfits. After the denim jacket comes in the market there are one more fashion outfits that have become so trending which is sneakers and women loves it too.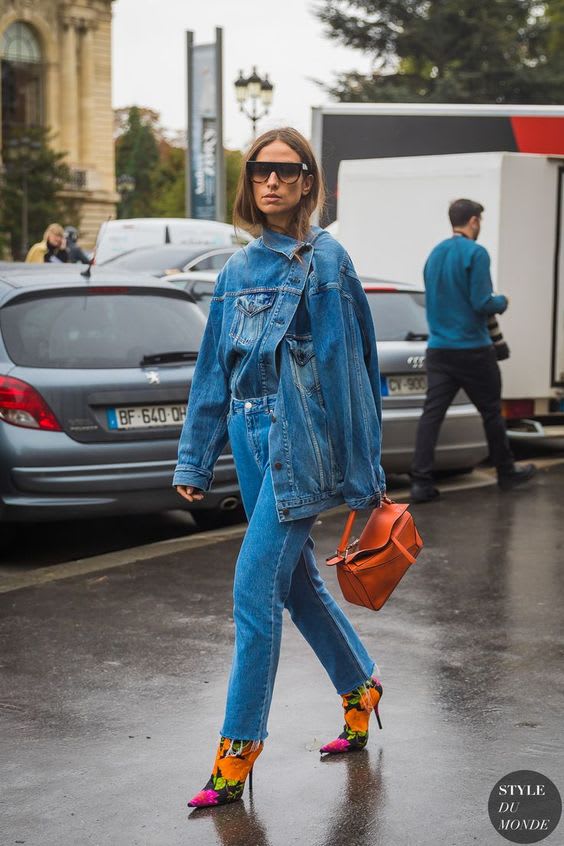 If you can see the above model image only one thing come in mind which are it is fashion blunder. Buttoned jacket over the shoulder with skinny jeans and colorful high heels sandals, But if you are a model and want to take good street fashion photoshoot this outfit is perfect for you.
PRINTED OVERSIZED DENIM JACKET FOR MEN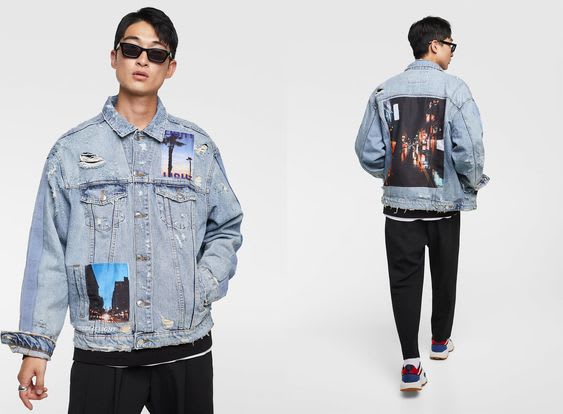 Oversized jacket demand not only in women also men like to wear; With jeans and complete street fashion style, men try distressed style jacket.
DENIM JACKET WITH HIJAB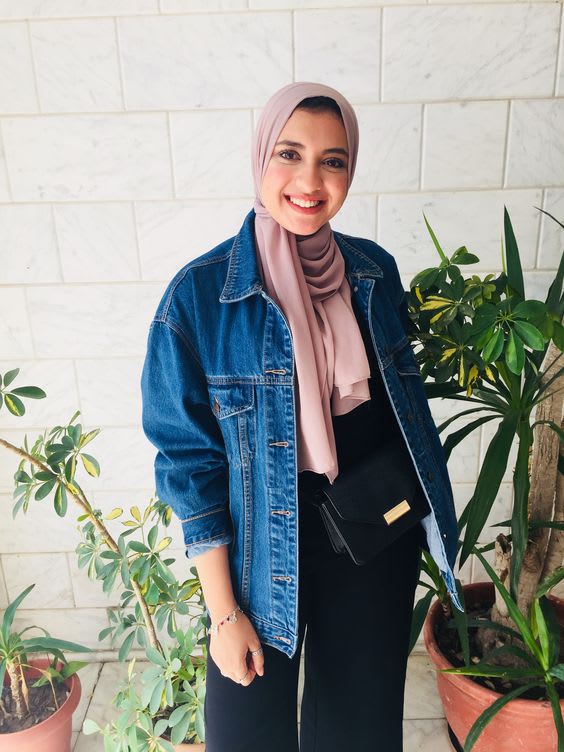 In Islamic culture, the hijab is the most important part of wear when women go outside. The last decade of fashion changes hijab fashion also keeps changing. Now women wear the open face hijab with western outfits. Like above women wear the western outfit with denim jacket and hijab on the head.
OVERSIZED JACKET ON HIGH WAIST JEANS
If you are looking model photoshoot poses with denim outfits, this is perfect shoot and outfits who are slim and want to look unique in photos. Denim is playing the major role in modeling photoshoot sometime, because of its glare your looks.
In your wardrobe, one jacket always needs to present if you are want to look beautiful and charm. Oversized jacket, long Jacket, crop jacket and slim fit jacket any jacket have to with you while shooting.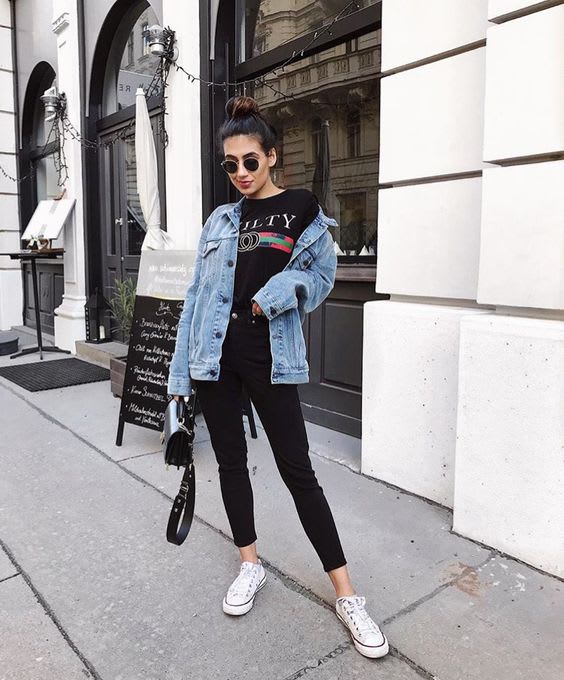 Hey!!!, Are you going with friends to have fun at a cafe or restaurant above model outfits is perfect.
Black skinny Capri jeans, Black T-shirt, White classic sneakers, Handbags and finally denim jackets.
Always choose the outfit as per body slim girl wear the skinny jeans and t-shirt which looks not good but with a jacket, you can grow up your charm try out denim jacket or leather jacket with your outfits for looks perfect.
DENIM JACKETS ON DISTRESS BLACK JEANS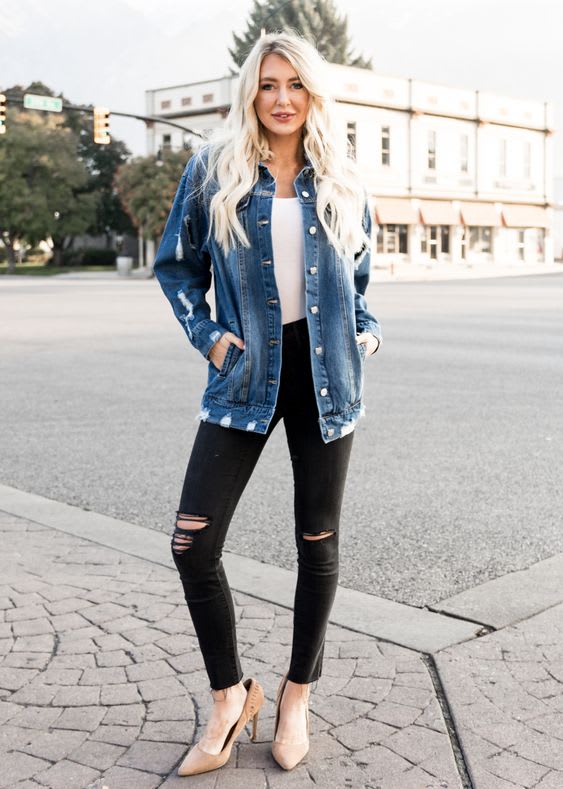 Many men and women are seeking perfect street fashion outfits. Distress black jeans with distress jacket this jacket also has oversized on this model, It is perfect street fashion outfits.
If are you planning to go with a boyfriend who wants to look bold this outfit plays a big role. Many girls are looking perfect street fashion style this is a perfect one at a reasonable price.
BIG DENIM JACKET ON SHORTS
Big denim jacket on short is worn by girl and women. Ten out eight girls like to wear shorts; In the wardrobe, you can put at-least keep three-color denim shorts wear.
In summertime shorts is the best option to wear with t-shirts and shirt, Many girls have an option to wear with a jacket with the oversized, cropped jacket is the best options for girls.