10+ Cool Stylish Beach Outfit For Men
Beach outfit for men during summer, and each time men go on a beach vacation, they need to have specific clothing that they may wear when visiting beaches. Men will be able to pick from a variety of clothing such as t-shirts, shirts, and shorts. If you are planning a long beach vacation such as Bali, Indonesia, or Hawaii and want to feel free from the sticky formal dresses worn in the office, because every event has different fashion outfits available for office, casual, and even at home required outfit that same reason for vacation have an especial outfit and for the beach, there are unique outfits required too.
Below is the list of best beach outfits for men so keep scrolling to the bottom and find out the best outfit for the beach. With a beach outfit set out a hair cutting with the latest style which can give you an extra casual look and relax.
Beach T-Shirts Outfits For Men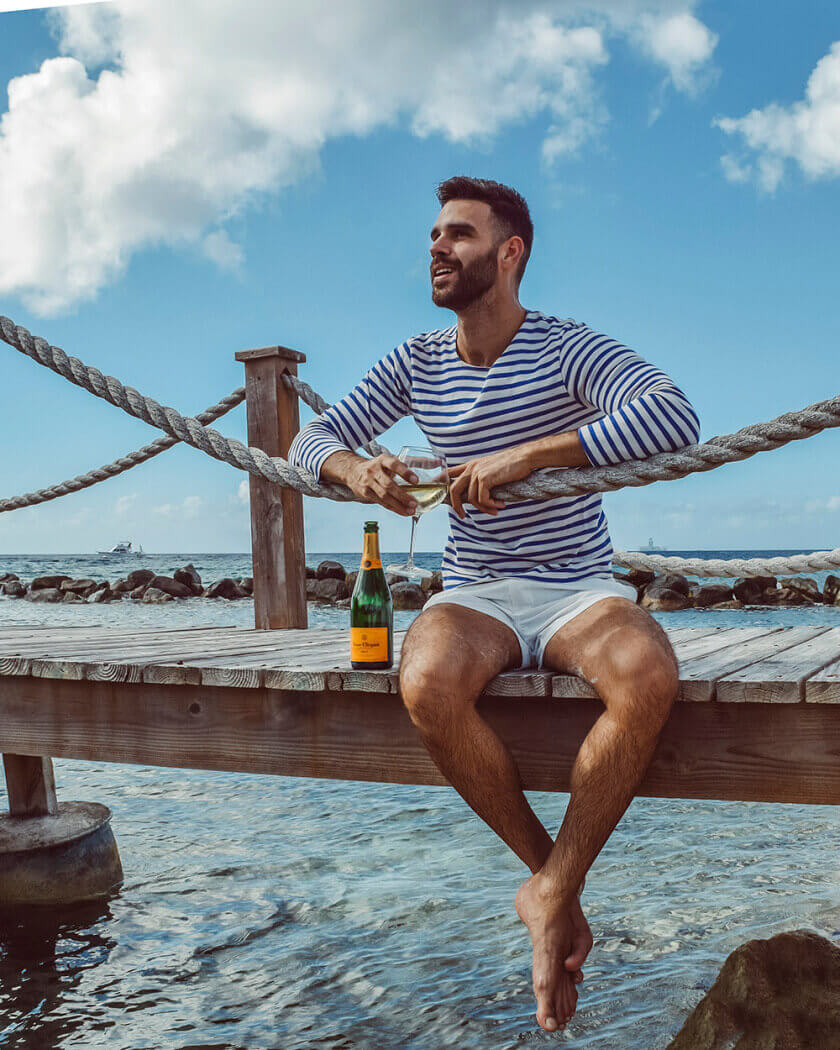 T-shirt is always considered to wear on relax mood when people are in the casual mood they can try out t-shirt with denim jeans but over the beach vacation time men can try out this horizontal blue lines white cool t-shirt with shorts you can choose full sleeves as an option otherwise there are most of the wear a half sleeves t-shirts. If you go beach where the sun is heating enough and that can burn your sensitive skin then go with full sleeves t-shirt and which all men like and girls attract as well. With a t-shirt combination with shorts to look attractive and relax in it.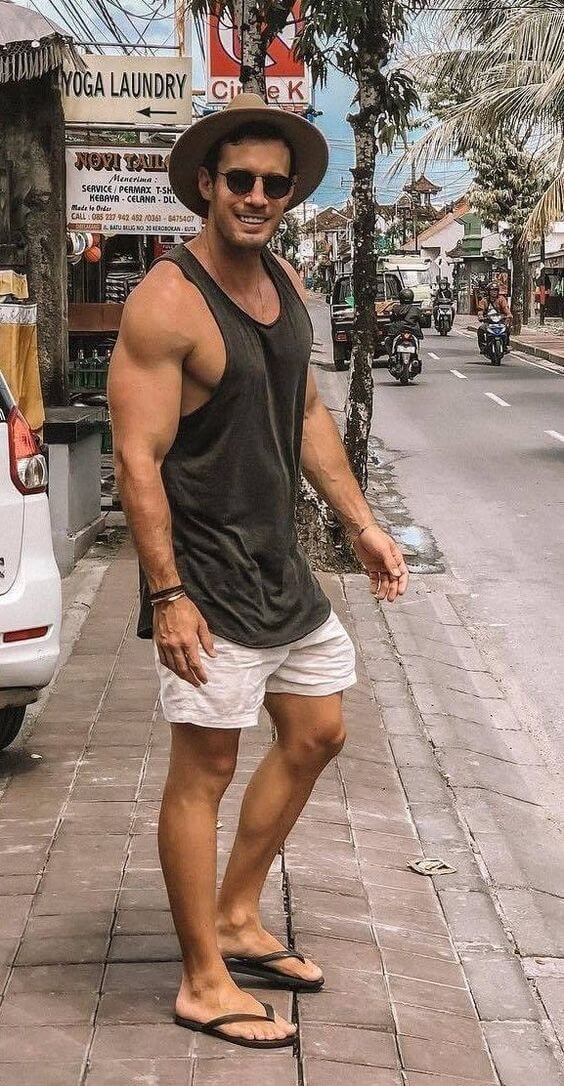 Do not get hustle to get a t-shirt and want to show your pump-off biceps then there is one of the best outfits is a vest that can wear along with shorts. Wear a loose vest to feel much more relaxing over beach vacation time. If you are at the beach and do not wear proper sunglasses then it is not for your beach outfit then take your best beach sunglasses and flip flops as footwear to get looks best vacation mood.
Floral Printed Beach Shirt Outfit For Men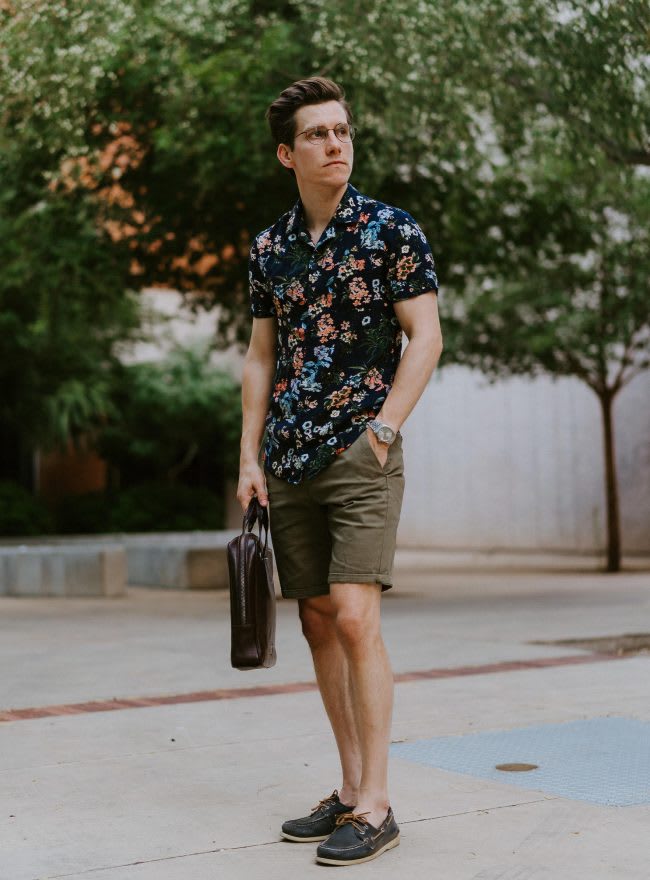 Floral print shirt in casual fashion is more popular in men they love to wear this kind of printed shirt the casual time as well with trousers when want to go street casual time to spend with friends or girlfriends. On beach time men can try out this floral print shirt with shorts to get perfect vacation outfit ideas. You can go with cotton shorts with casual loafers shoes to look fashionable. If you have limited time to pack vacation time clothes bags then you can adjust your casual outfits.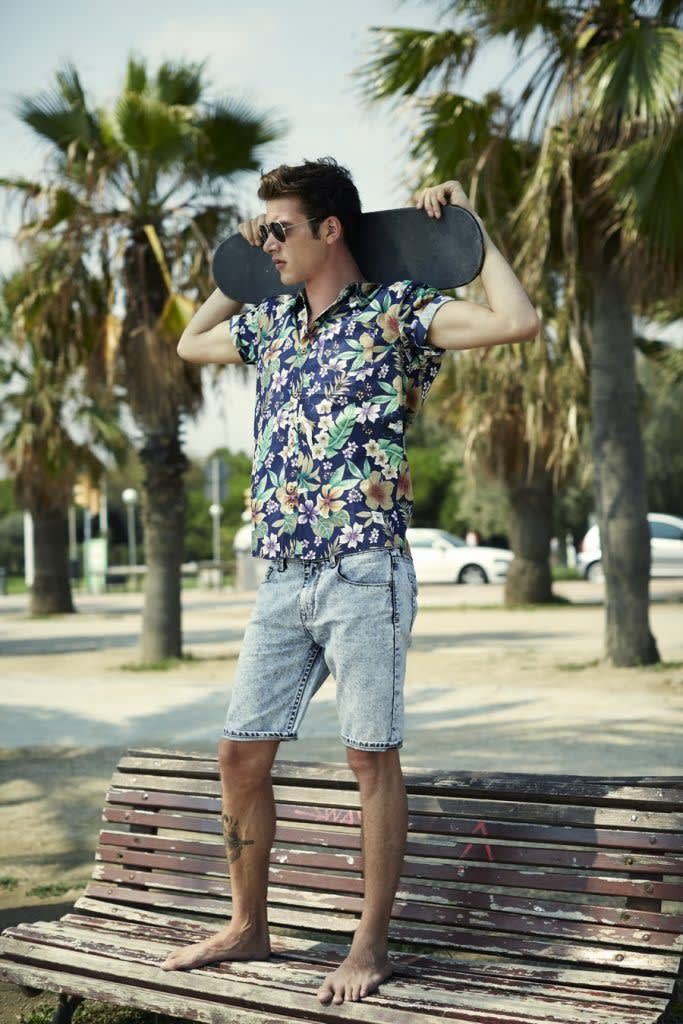 Without denim men's fashion is not complete not men's but women also prefer denim in fashion but men have a different way to attract with denim. Beach vacation time try out denim shorts with a floral printed Hawaiian shirt to look and feel more relaxing.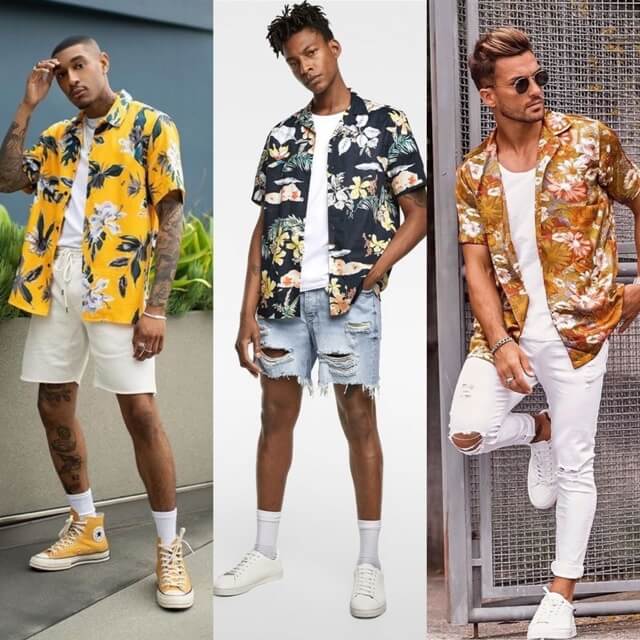 You can go with a different way to wear a floral print shirt with distressed denim jeans, denim shorts, and cotton shorts to look perfect. A White t-shirt or any other color of t-shirt which can wear inside looks more fashionable. Sneakers can feel extra comfort here white sneakers footwear is the perfect one.
Beach Shirt And Shorts For Men's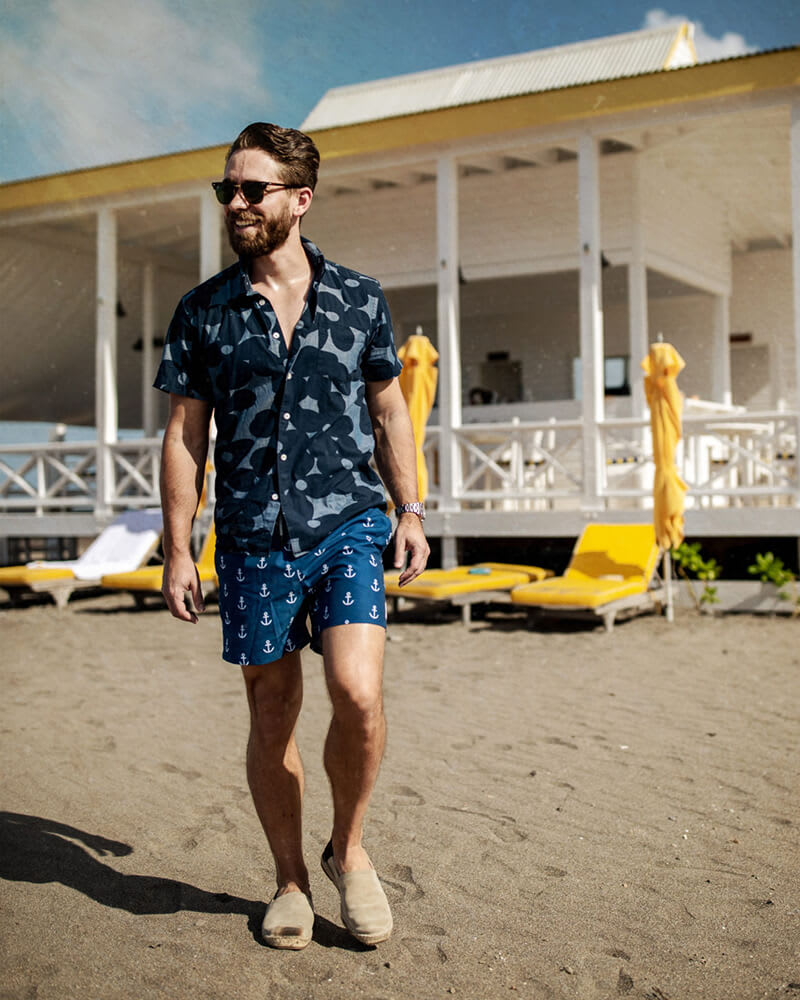 There are other parts of many designer beach shirts and shorts available for men which can wear with flip-flops, sandals, or loafers shoes. Try out a full summer head cap that can give extra charm to personalities or else you can set the best casual set hairstyle while on vacation time there are many formal and casual hairstyles available.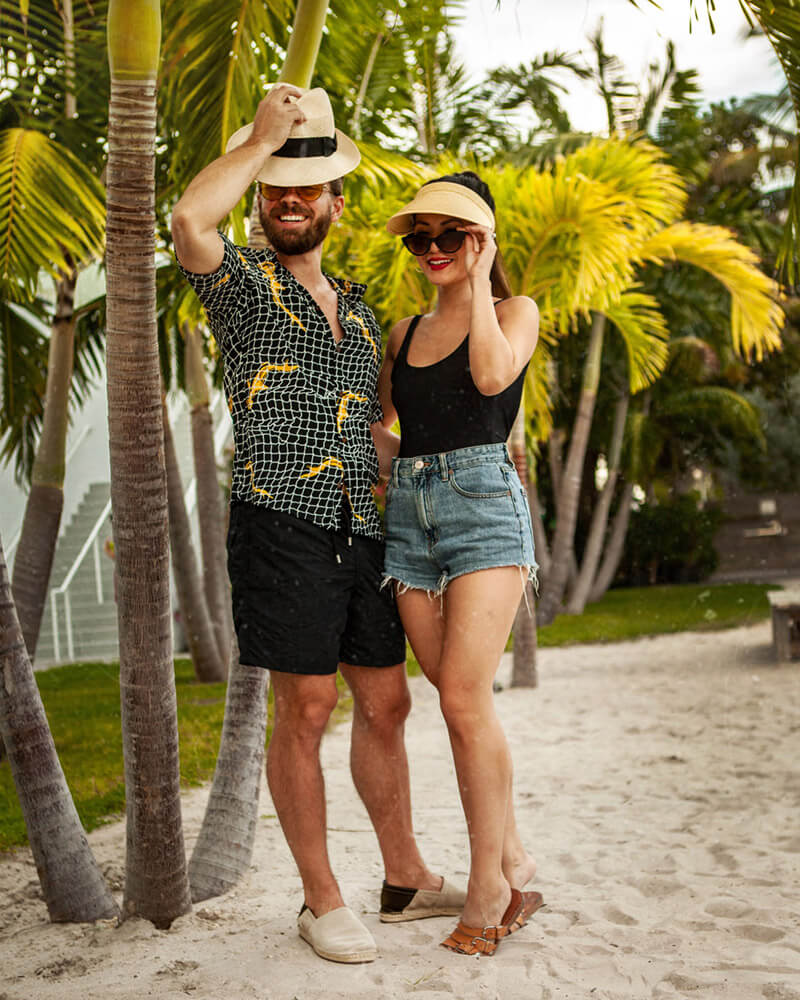 Go with a funky checked printed shirt with matching colors of shorts you can be paired with your partner just like the above image. Sure things which colors and pattern choose which can relax your mood and if you go vacation with your lovable partner then try to choose matching clothes to create romantic moments.
Matching Beach Shirt And Shorts
Few men love to wear matching shirts and shorts outfits at the beach. There are floral or leaf printed matching shirts and shorts outfits available. With a shirt and shorts, you can take to focus to wear matching shoes and choose the latest designer sunglasses and hats. At beach time many men faced sun heating problems so these fashion accessories can save them from it easily.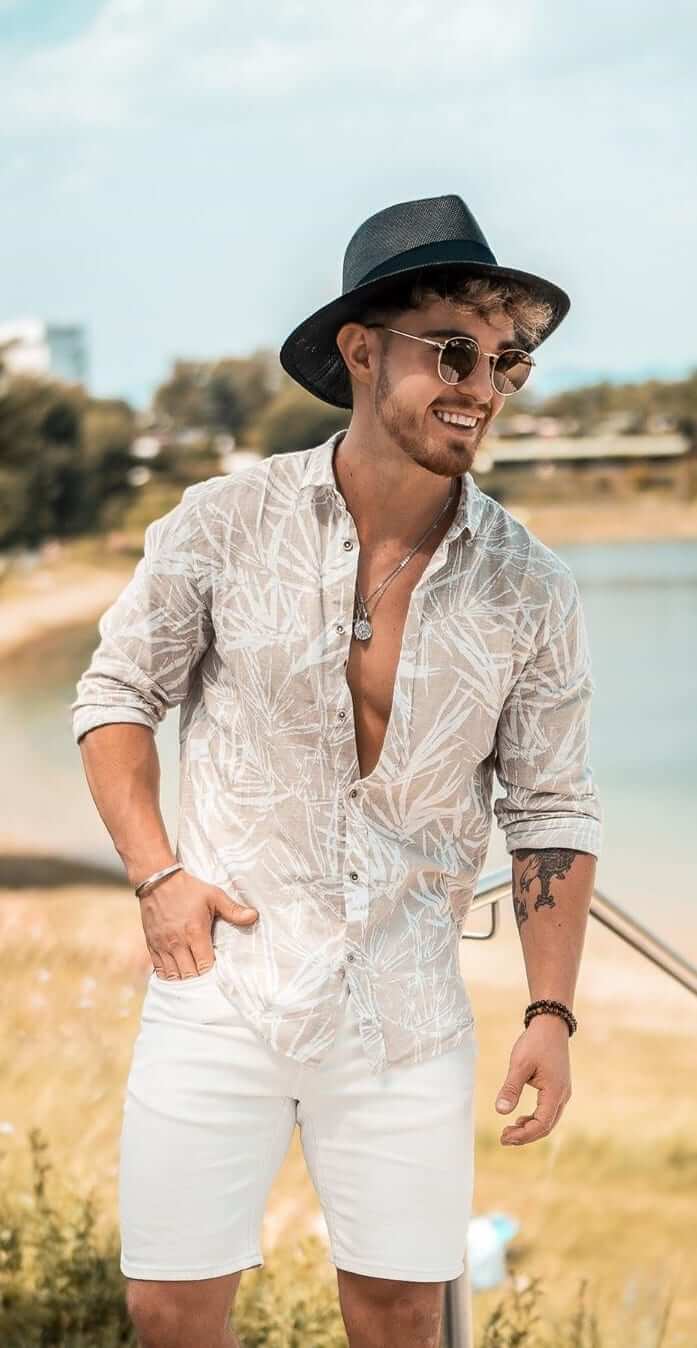 The floral print transparent fabric wears with white denim shorts to look attractive at the beach. You can choose your favorite colors here with blue or something type of.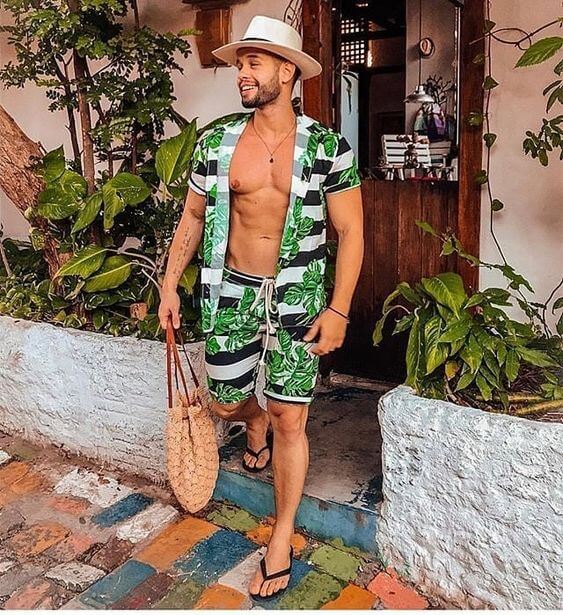 Green leaf printed cotton shirt and joggers short beach outfit for men which can trendy outfit currently when men think to go on vacation they are most of the wear a branded and designer outfits over vacation time as well. Most of this type of attire will look at Miami beach most of the fashion experts said it is a Miami beach attire. Flip-flops, beach outfits, and hats on the head are complete a set on vacation mood.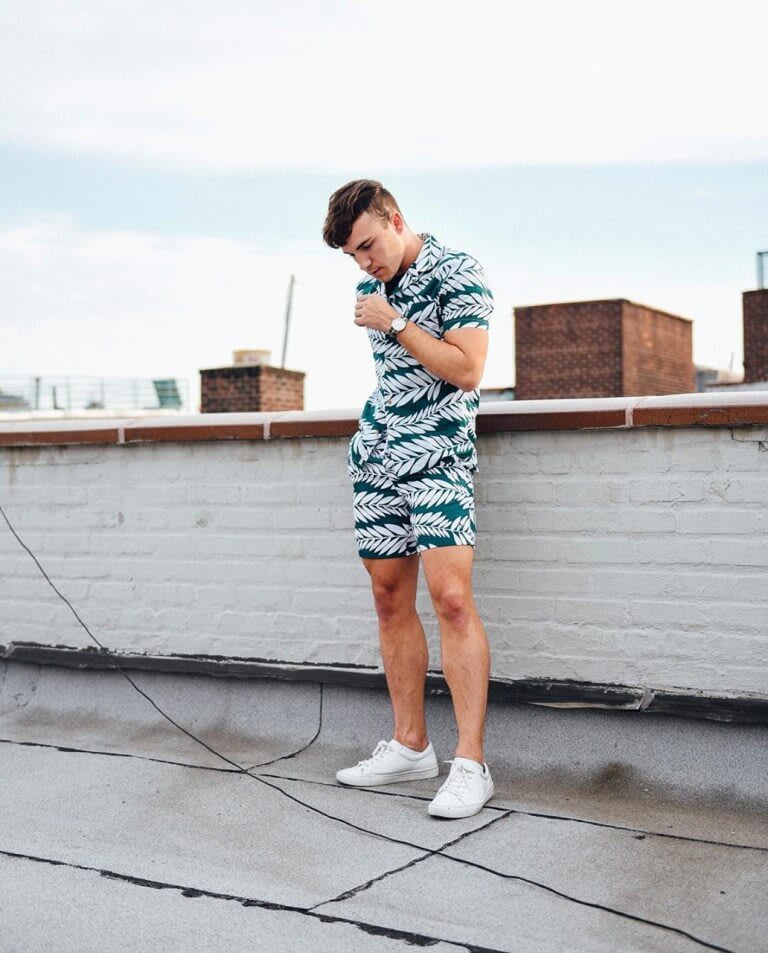 Men adore sophisticated beachwear, and this leaf patterned match-to-match shirt and shorts are quite fashionable. When on vacation, this is the ideal outfit for having fun on the beach. Try out white sneakers as a superior method to finish off your vacation outfit.
Beach Shirt And Pant For Men
If you go to any beach resort or beachside shopping do not mood to go to the seashore this outfit "beach shirt and pant" is best option to wear you have already floral print shirt you can take wear the white or bright color of paint to looks cools attire. This is a great option to wear when you are on vacation for a long time at least 2 weeks. Loafers, pants, and hats are felt it charm into your personality.