10+ Best Way Wear Black Shirt Combination Pants
Black shirt combination pants for men. Men are loved to wear black color because it comes in men color usually men favorite color is black, white, grey, maroon, green something like of colors so there is very less of choice of color combination available in men rather than women in women there are lots of variants of colors available which they can wear easily. Many men have to get confused about what color pants to wear with a black shirt or any other color shirt.
There are white shirt and blue shirt combinations available if you have to requirement about those colors also. With a formal or casual outfit get a perfect hair cutting style so you can get perfect eye-catching attention in a crowd.
BLACK SHIRT COMBINATION PANTS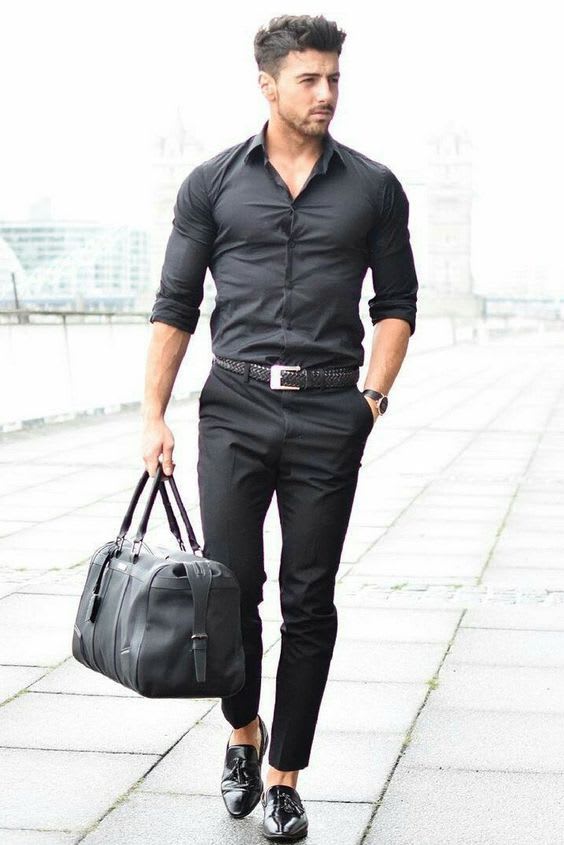 With a black shirt, you can try simple match black cotton pants or black denim jeans which is looks perfect best model look combination, and people love to see it. If you have to wear over on casual shirt then you can wear denim black jeans with a checked or textured black shirt.
Footwear is focusing on fashion accessories stuff there are many types of footwear available which you can try out over denim jeans but currently, there are sneakers are more and more going trendy then boots and sports shoes last one decades ago there is only two types of men shoes available one is formal and second is sports shoe fashion but after many revolutions, many changes have come in men footwear segments like sneakers, loafers, boots, sports shoes, flip flops, sandals, etc.

With distress black jeans with white sneakers shoes always works choose a perfect white sneakers shoes for black denim jeans. In 2021, distress denim jeans will be one of the most popular denim jeans purchased by both men and women, and different types of distress jeans will be required with casual shirts and t-shirts. An open shirt with a t-shirt style adds charm and heightens casual personalities.
JEANS WITH CHECKED BLACK SHIRT
While deciding on a black shirt but not go with a plain one then there have has been two options available for you one is checked and the second is texture print over a shirt. With a black checked shirt, you can go with pants and denim jeans both try both look perfect and cool. In a checked design there is quite possible you have good enough choices like small checked, larges checked box, dual-color of checked pattern available choose as per your like of choices with the best combination of these checked black shirt with jeans below are few inspire images.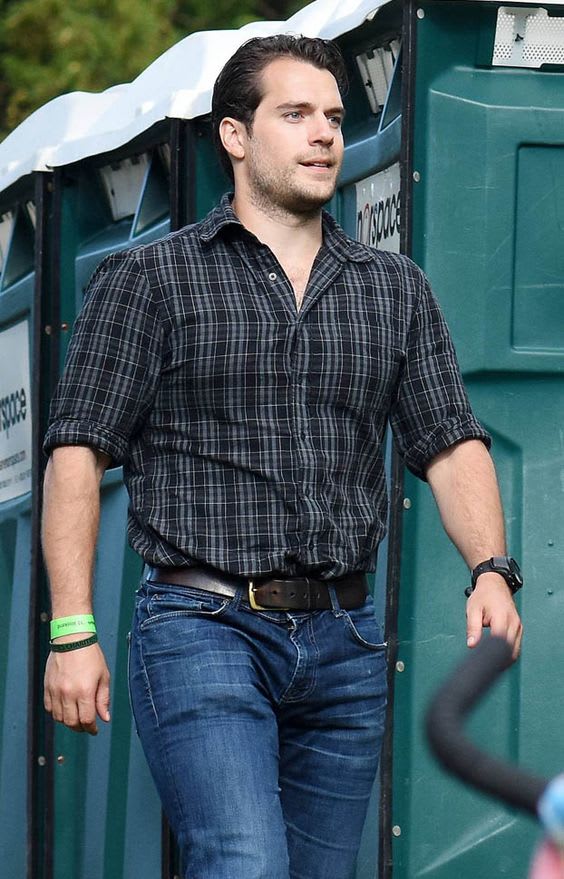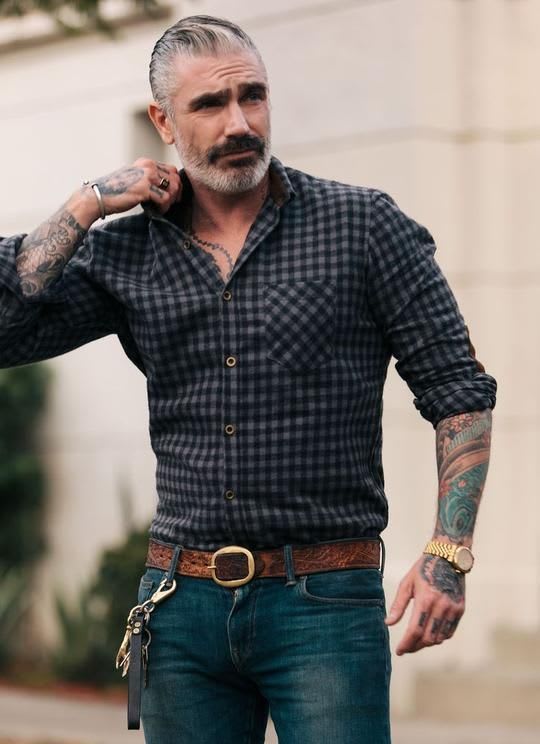 A macho and stud look can also be obtained by wearing this checked shirt. Choose charcoal with black shirt with slim fitting to give men macho personalities. This shirt can be done in-shirt to achieve the desired look and style.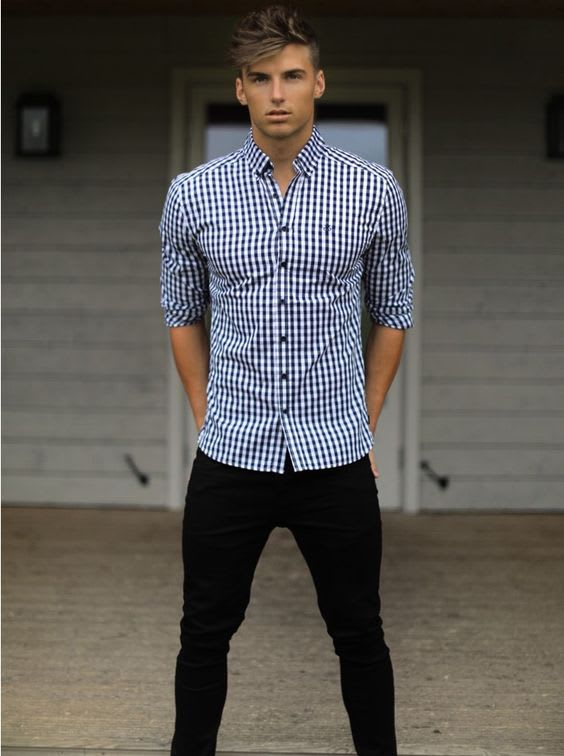 With slim-fit black pants and a small checked black shirt with long sleeves, you can achieve a semi-casual look. There are small checked pattern designs that look great on men wearing black or other colors of denim jeans. Small white and black checked shirt looks, on the other hand, transform their style with this attire outfits.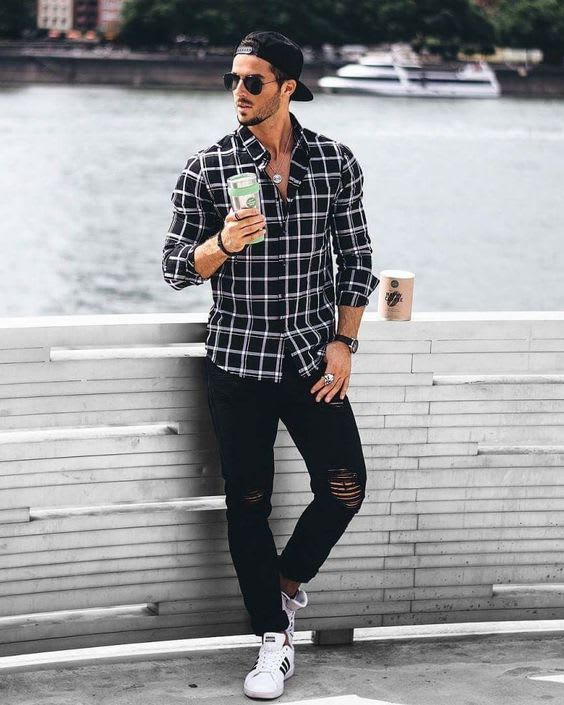 Black size of checked design with distressed denim pants is a modern outfit. Men who want desired outfits which can grab attention in public can choose the type of outfit and if men have fair skin tone they can choose the dark side of outfits.
PLAIN BLACK SHIRT WITH JEANS PANTS
You can choose bottom wear, but what to wear with what is sometimes dependent on fabric material as well. For example, if you have a cotton material fabric black shirt, you can go with trousers pants and denim jeans both, but if you have polyester, linen, cotton linen, then you have to choose to go over with pants.
Cotton fabric material plain black shirts are in high demand and are now available in online stores at reasonable prices.
Wear stylish sunglasses, shoes, and wrist bands in addition to watches to attract more attention.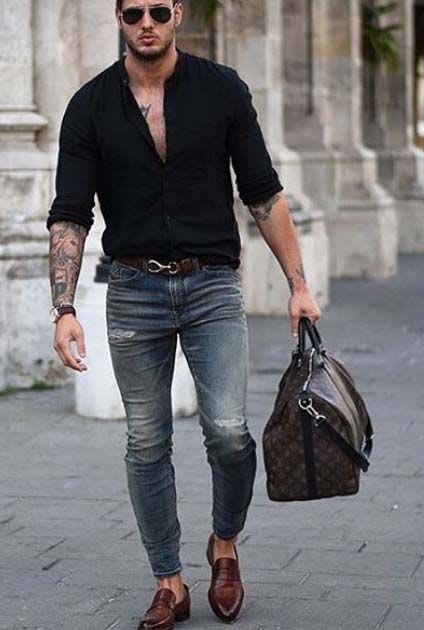 If you like to look like and want to be a professional and charming personality then you can choose perfect combination fashion accessories also like carrying bags if you have are coder then carry an attractive laptop or tablet bags or if you have to go travel for one day any remote place then carry one-day travel bag with leather touch and finish.
BLACK SHIRT ON BLACK DENIM JEANS
When it comes to men's attire, the same colour combination of outfits is largely possible, with the most common being a white shirt with white pants and a black shirt with black pants (denim or trousers). This black shirt on black denim jeans outfit is also appropriate for formal meetings and a casual date with a girl friend. It gives men dynamic personalities.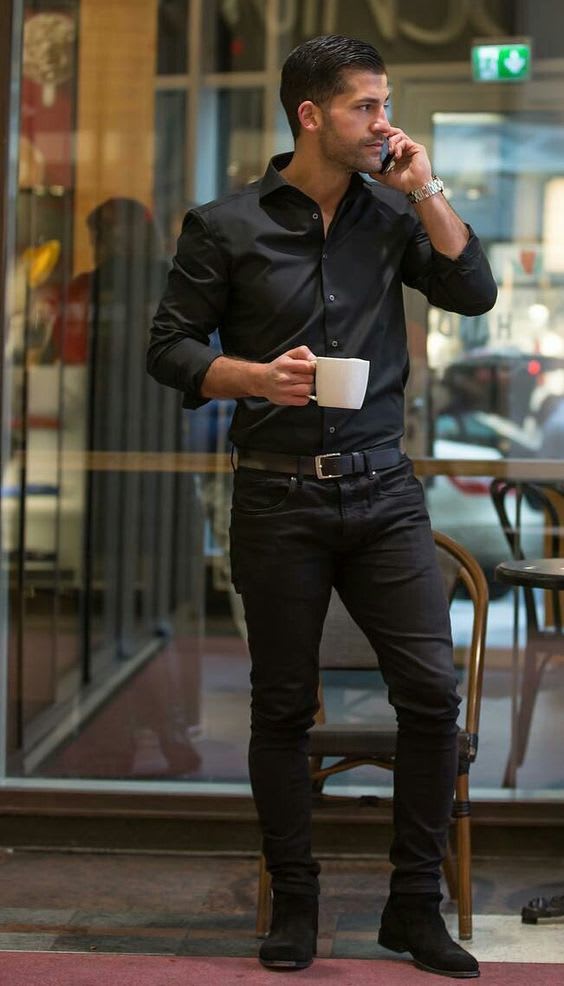 When you want to look dashing, try on black boots instead of sneakers, and when you want to look casual, wear sneakers. Choose footwear based on shirt occasions and shirt types. The simplicity of the pointed black boots adds to their allure.
BLACK SHIRT WITH GREY PANT COMBINATION
Grey color is black color best child color you can always saw around you grey color which is combined with white or black because of it is the child of black color here you can easily combine your black shirt with grey color pant it is a perfect combination there are multiple options available also like plain, texture, printed of pants available. You can style with cigarette pants, narrow pants style with a black formal style shirt.
Trouser pants are most of the time wear with formal style with the formal shirt so you have to look out the tie and casual blazer style as well if you wish with a black shirt you can try out grey casual or formal blazer here.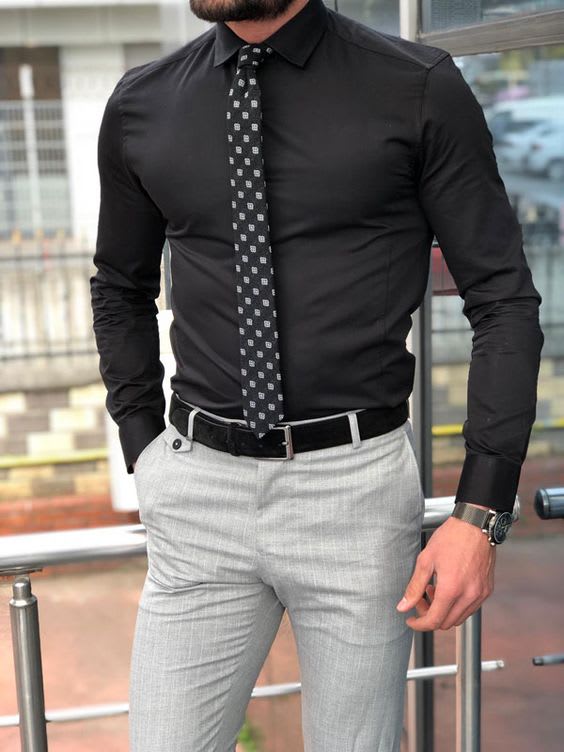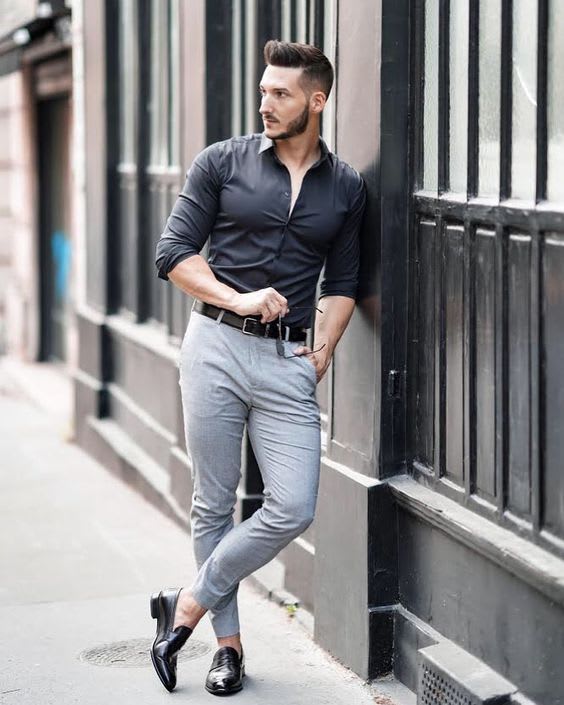 You have two options here with a formal and semi-formal shirt with grey trouser pant you can choose long sleeves shirt which you folded up on casual time and the second one is half sleeves shirt which one is consider casual shirt most of a fashion designer but you can wear on as per your firm requirement.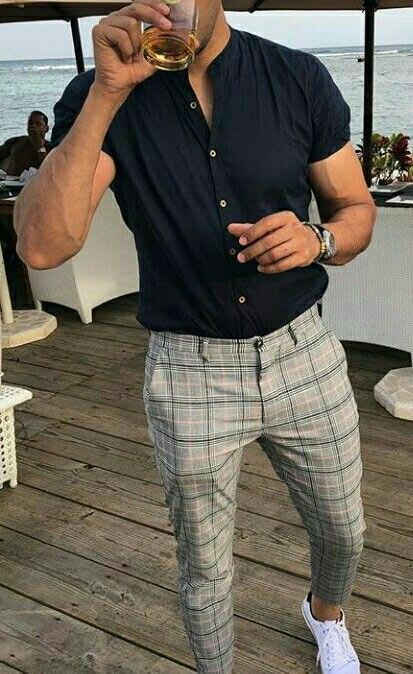 BLACK SHIRT WITH PINK PANT
The pink colors of pants are usually and mostly wear women but after the fashion revolution, you can wear a pink shirt over a black shirt as well. We all knew pink means female color so why this pink color pant wears with the black shirt but this is a combination gives model looks there is light pink of color can men wear as an option of shirt or pant.
There are two options available here: half sleeve plain black shirt and full sleeve black shirt that can be worn with pink trouser pants combination. For men who want to look cool in a shirt, this outfit idea is ideal.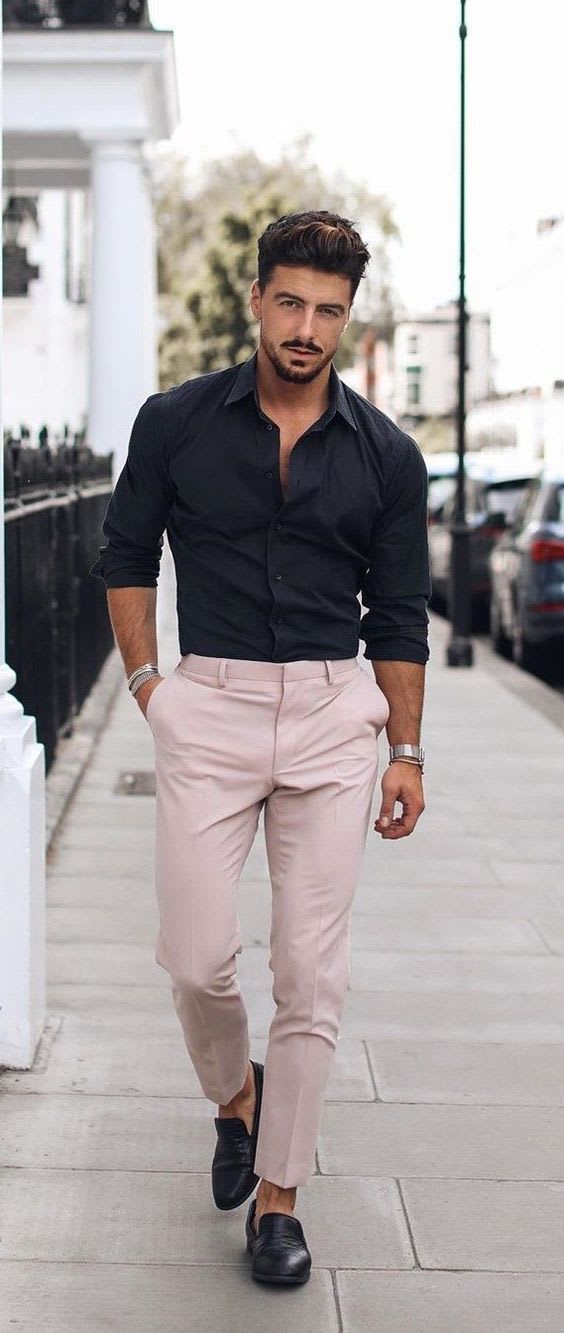 BLACK SHIRT WITH BLUE JEANS COMBINATION
Just as black outperforms every colour, blue denim jeans outperform and fit with style with any type of colours, style, and look, so when you don't know what to wear with what on a quick ready time, wear denim blue jeans with any colour pick. If you have a plain casual black shirt, a printed shirt, or a checked shirt, light blue denim jeans are a great match for a dark colour shirt.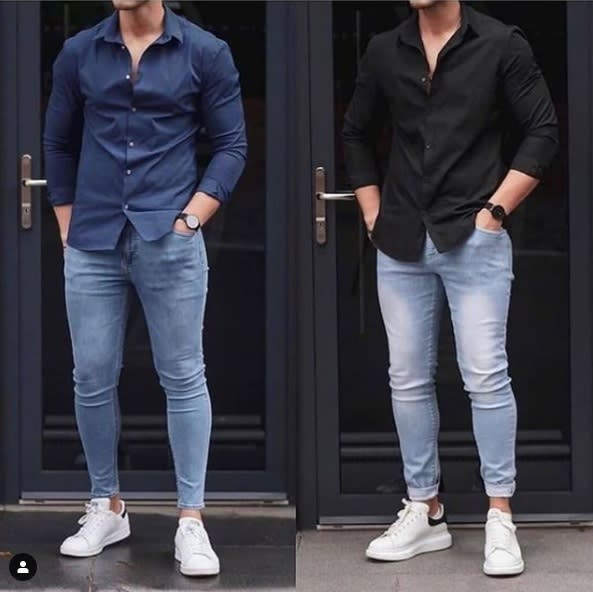 Other black shirt options include printed black shirts, which can be worn with brightly coloured denim jeans or pants, such as (white, cream, light blue jeans etc) below is the options available.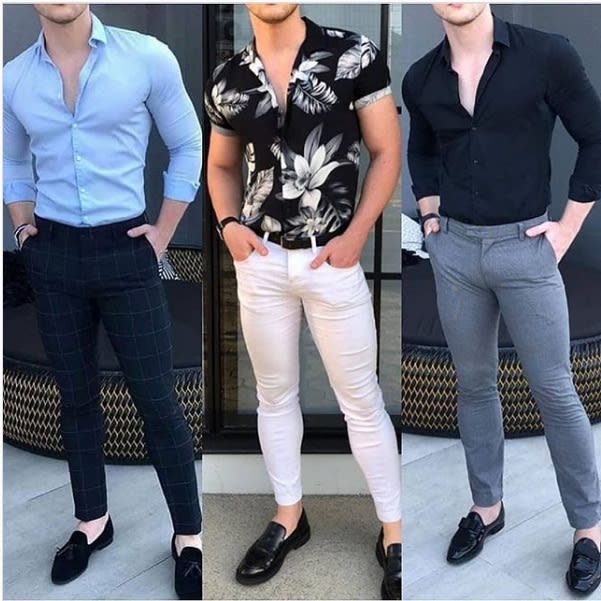 FAQs
What Color Pants To Wear With Black Shirt?
Because there are fewer colours available with black, you should go with black shirt combination pant which is First Grey, Blue, Brown, Light Brown, White, and Black, many men love to wear the same colour of pants on the same colour of shirt which looks absolutely perfect combination. There are many different types of black shirts available, including printed floral black shirts, plain black shirts, textured black shirts, and checked black shirts. You should pair the above-mentioned colour with denim jeans.
u003cbru003eWhen To Wear Black Shirt?
Wearing a black shirt is similar to wearing any other shirt, but when going to the beach, avoid wearing a black shirt because direct sunlight can warm your body. Wear a black shirt on dates, business meetings, and casual occasions.
Black Shirt And Tie
If you are wearing a formal shirt, most likely a plain one, a tie is required if you are attending a formal meeting with management, your boss, or a client. To create a contrast colour, choose a tie in a brighter colour.